So how did I feel after the first session? Well, the truth is it hurt pretty bad.  I actually went into the session with Chris with a sore back.  The previous week I had done a heavy deadlift and had also been demonstrating a lot of KB swings to my athletes which is why I think I was struggling.
I had the worst muscle soreness in my quads and my back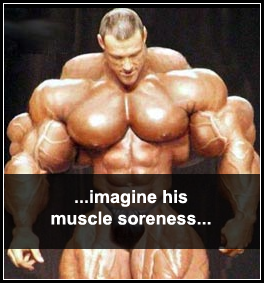 was still sore from previous week's training before seeing Chris.  What was most noticable was than it  felt like my core had gone to sleep- I just couldn't get that bracing feeling all week and I guess they were just taxed to the max from the maximal effort!
Session 2:
I ended up going back to see Chris for my second session a full week later.  By this time the muscle soreness in my legs was gone and my back was just a little stiff.   To cut a long story short we did pretty much the same session as Session 1 but in Session 2 I in also added in a few extra exercises:
Core and Kettle bells:
I added in Swiss ball jack knifes 2 x 10 (see below) with a rotation as well as Swiss ball back extensions.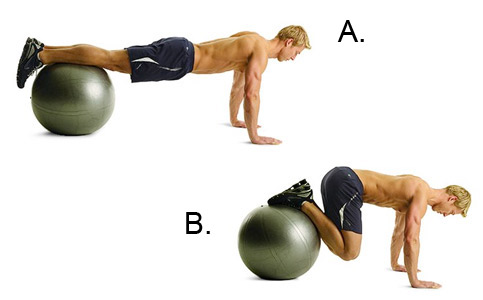 For Kettle bell I added in Turkish Get ups 1 x 6 each side.   The squat routine was the same only this time I was more accustomed to it and knew what to expect.  This time Chris didn't need to lift me all the way up, he just nudged me out of the hole and I got myself the rest of the way up.
Session 3:
This time I actually recovered a lot faster.  I didn't have anywhere near as much muscle soreness and was able to lift again on Tuesday after I only previously saw Chris last Thursday.  I think Chris is cunningly increasing my work capacity as I now did a more extensive extended warm-up before the main squat.
Core and Kettle bells:
We did the same core routine as previous session then I tried several new KB exercises to the growing repertoire! Session 3 looks like this:
1.  KB squat swings 2 x 30
2. KB goblet squats 2 x 20
3.  KB side planks hip lifts 2 x 10 each side- this is so hard!!
4.  KB figure of 8 swings 2 x 10 each side
5.  KB Arabesque 2 x 10 each side
Then we hit the squat using the same progressive sets x reps scheme:
warm-up: empty bar 1 x 10
1 x 5 at 60kg / 1 x 3 at 80kg / 1 x 1 at 100kg
Let's see what is in store next week!  I feel much stronger in my core and I have modified my squat technique slightly so I am sitting forward slightly more with the bar slightly lower on my back so I can push through my abs and glutes more.  I don't get knee pain and now it is feeling easier to get the reps done!!!!!
http://athleticperformanceacademy.co.uk/wp-content/uploads/2015/05/APA-Logo1-300x156.jpg
0
0
darren.drake
http://athleticperformanceacademy.co.uk/wp-content/uploads/2015/05/APA-Logo1-300x156.jpg
darren.drake
2013-07-05 14:45:45
2013-07-05 14:45:45
More updates on APA Coach Daz's Strength improvements!