To follow up the last post I thought I would give some key take home messages from the second presentation at the Lawn Tennis Association HPC S&C Workshop.  As part of my role as Head of S&C at Gosling Tennis Academy I get to go down to the National Tennis Centre (NTC) three times a year to discuss a range of topics relevant to S&C practitioners working in Tennis.  This next presentation was by Richard Blagrove (Programme Director, St Mary's University) all about enhancing Tennis Performance with Running drills.
Before I get to the presentation I just want to touch on the reading I have been doing on the former Soviet block work in the area of Plyometrics.
If you have read part 1 and part 2 of my Blog posts on Periodisation for Tennis you will know I've got right back into my reading on the old Soviet Block Periodisation concepts from the 1960s-1980s.  While there are many people who have criticised aspects of Russian training models (myself included) I strongly encourage you to have a look at 'Special Strength Training for Sports' by Yuri and Natalia Verkhoshansky.  I now have a new appreciation of how incredible they are as applied sport scientists and an even greater appreciation of how far ahead of its time the USSR sports programme was.
The birth of Plyometrics:
The whole concept of plyometrics evolved from Yuri's work with his athletes because he was looking for a way to overload his high jumpers.  He knew from his research that a high jumper could experience up to 300kg in impact loading forces at the point of take off on the single leg.  He was searching for ways to prepare his athletes for this and experimented with heavy explosive jump squats.  But due to the long lanky frames of the high jumpers this caused back pain.
Now one winter he was forced to train his athletes in a small space in a corridor as there was no gym and he couldn't go outside so he decided to get his athletes to lift barbell weights and jump off some boxes during the winter months. Through experiments he found that the 'shock' of jumping off a high box had an amazing effect on the explosive power of his athletes and the term 'shock method,' was born.  The term pliometric was the original term used in Russian literature to describe the yielding or eccentric phase of the stretch-shortening cycle.  An American coach later took this term and came up with 'plyometrics' and the rest is history!! Get the book; it will blow your mind!!
Any way back to the topic at hand:
Richard is clearly a very smart guy.  He set the scene really nicely and took us through his training philosophy which basically highlighted the need for a thorough analysis of the sport, using appropriate tests to determine basic fitness level, strength characteristics and movement quality, and having an understanding of the adaptation process.  Only by understanding how the body then adapts to different types of stressors can you begin to choose appropriate methods to overload the right type of neuro-muscular qualities.
Then he put up a nice slide on biomotor abilities and their inter-relatedness.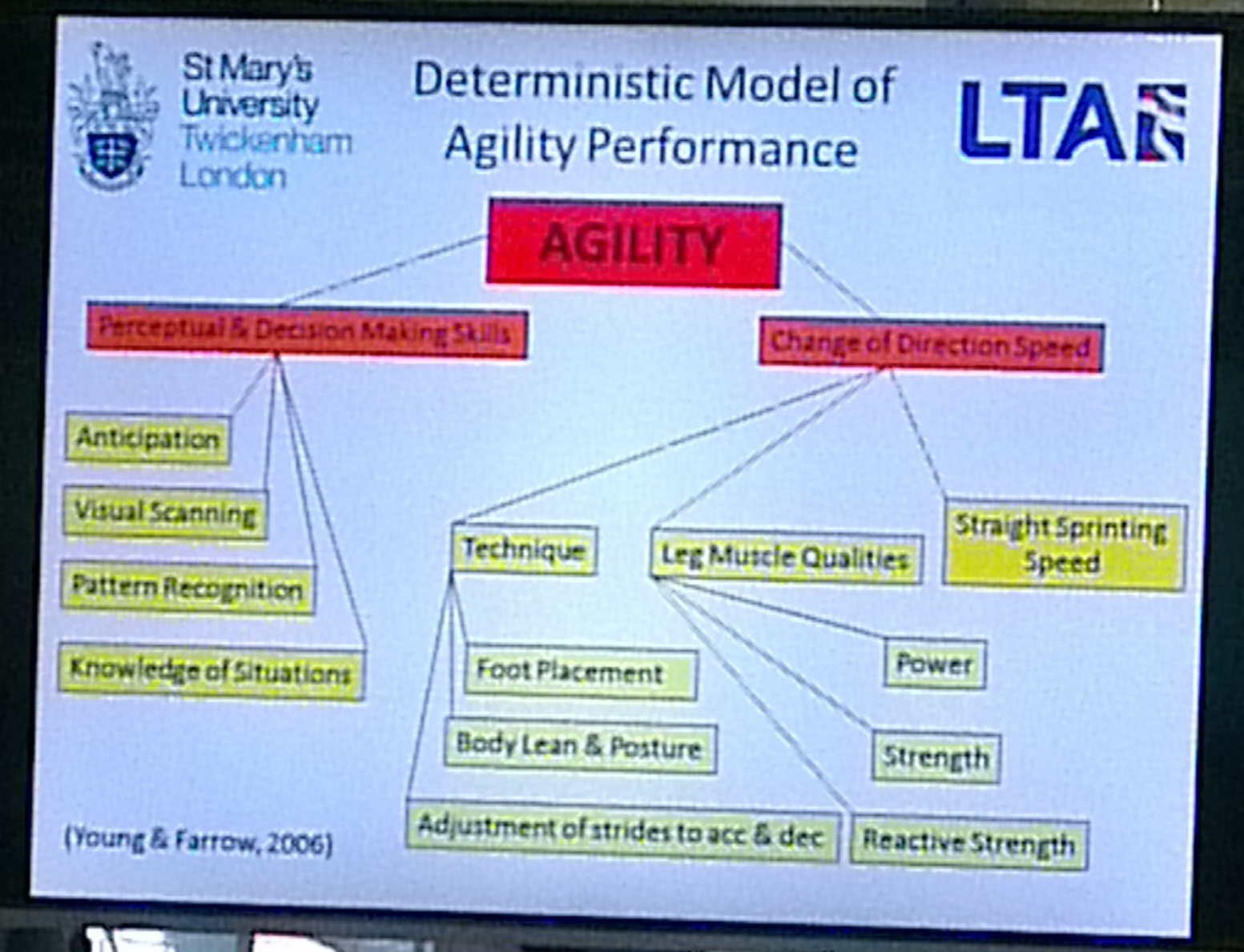 Richard made the point that Perceptual and Decision making skills are vital, and are the most important aspect of Agility or Gamespeed.  Using this overall model of Agility Performance Richard said he was going to show us some drills that would principally focus on three aspects of the model:
Foot placement
Posture
Reactive Strength
Before we got to the running drills that we would be going over we were able to hear Richard give a really good introduction to the different types of muscle contractions taking place in the body during physical tasks such as running and jumping, and specifically explain what he means by 'reactive strength.'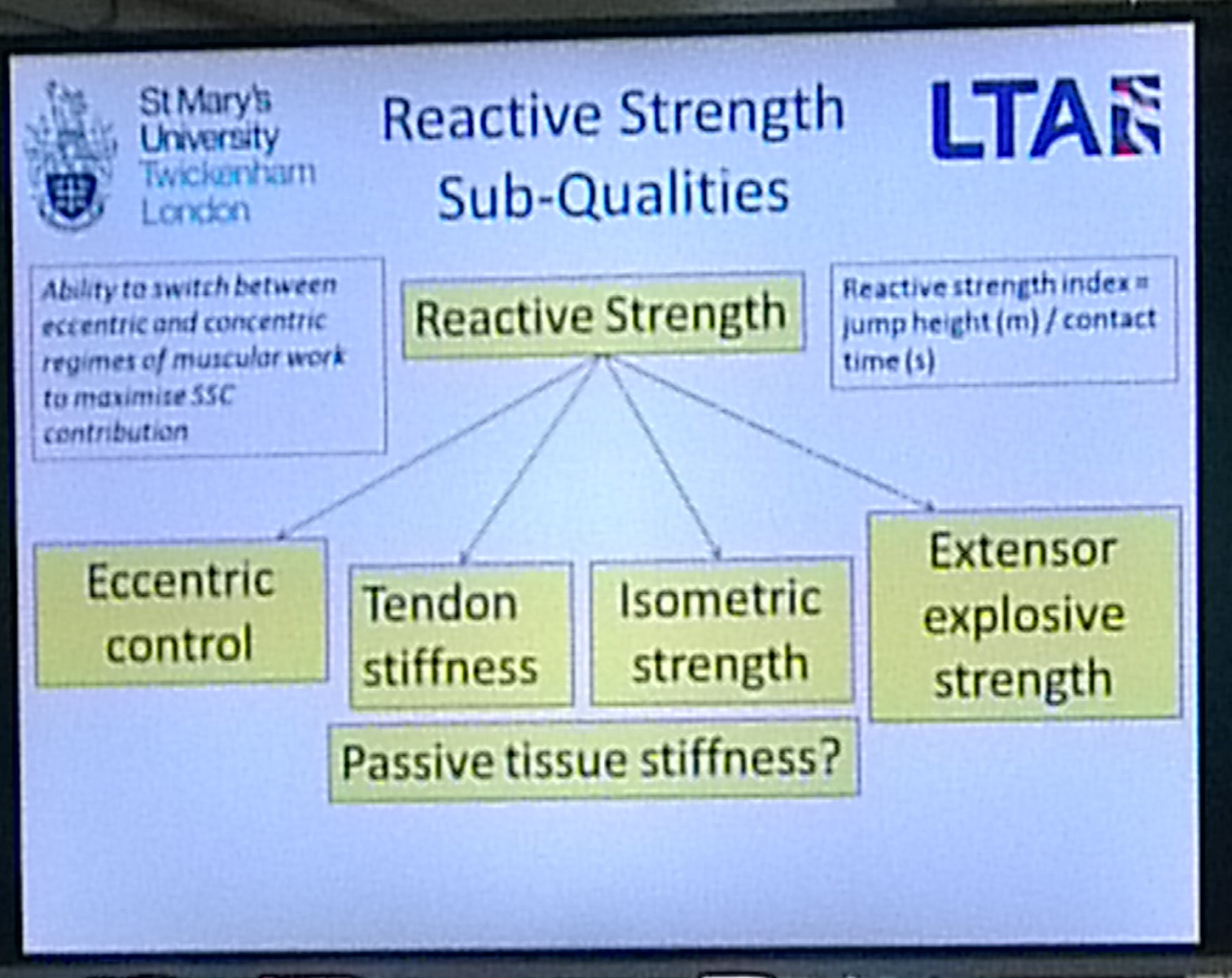 I wrote about Reactive Strength in part 2 of my Blog post on Periodisation for Tennis and I will be covering more in Part 3 which is coming up in a few weeks.   Richard talks here also about muscular contractions as being on a continuum with Eccentric contractions (Eccentric control) to the Left side and Concentric contractions to the Right side (Extensor Explosive strength).  In the middle are the Isometric strength qualities.  All of these contractions need to be utilised when performing exercises which make use of the stretch-shortening cycle (SSC), but in different amounts, depending on the type of exercise.
The eccentric component on the Left side is related to the quality of 'Muscle/Tendon Stiffness' and the concentric component on the right side is related to the quality of Muscle Compliance.  You could make an argument for saying that runners/sprinters need a higher level of Stiffness and less compliance whereas the opposite could be said for Tennis. This is because  in Tennis there is a wider amplitude of movements required.  Runners just need to keep their hips extended and run on the balls of the feet.  Tennis players will go in and out of triple flexion/extension.
What constitutes a 'True' Plyometric exercise?
The gold standard is 3.0 on the Reactive Strength Index (RSI) which could typically be achieved by jumping 60cm in the air with a ground contact of 0.2 seconds.
For it to be a 'true' plyometric exercise ground contact needs to be less than 0.2 seconds
A plyometric jump with a ground contact under 0.2 seconds is also known as a 'Fast SSC jump.'  A plyometric jump with a ground contact over 0.2 seconds is known as a 'Slow SSC jump' or a ballistic jump.
It is also worth considering the following when choosing which type of plyometric task to use for testing/training/monitoring:
Testing: Method: Single Depth jump from 30-40cm height box  Aim: Measure overall neuro-muscular efficiency/fatigue using Fast SSC jump
Monitoring: Method: 4 Repeated Jump test: Aim: Measure Peripheral fatigue using Fast SSC jump
Training: Method: Counter movement and Squat Jump Aim: Measure Concentric power during slow SSC jump
You may decide to test the Counter movement jump and squat jump as we invariably do for the Lawn Tennis Association (LTA) test battery but also consider where the fast SSC jumps may fit into testing, monitoring and training.
Then we went on court and went through some running based drills to develop the following qualities:
Hip mobility
Tendon stiffness
Posture
Richard qualified that while these movements were not Tennis specific they developed important athletic qualities that could help support an overall athletic development programme for a sport that is based on running.
The drills were broken down into:
Hurdle drills- for mobility

Ankling drills- for stiffness
A march and A skip drills- for top speed running technique
B march and B skip drills- for top speed running technique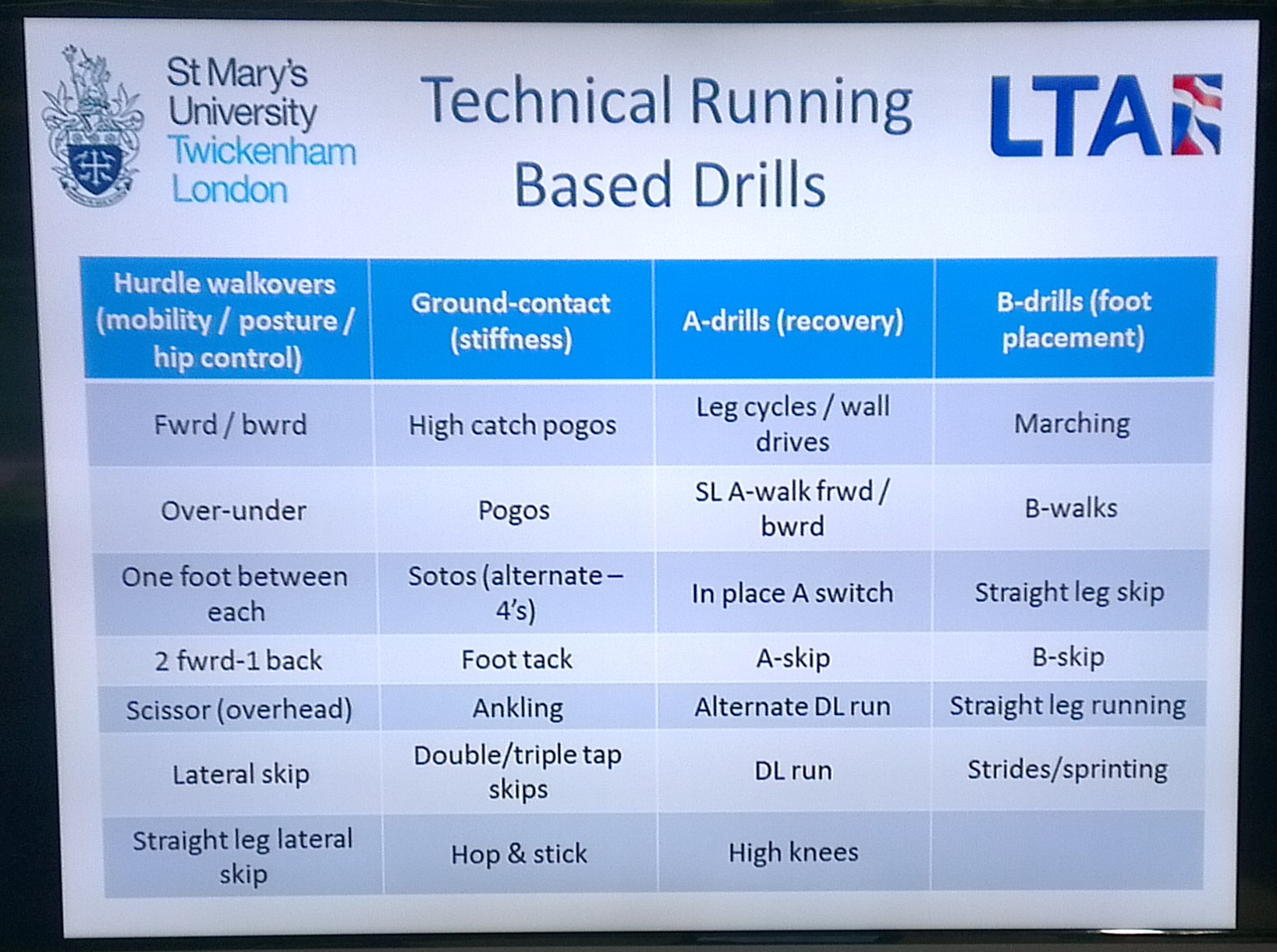 Below are a few short videos of the S&C coaches doing some of the drills.  There were a lot of the typical hurdle and A march/Askip/B march/B skip drills that we all do with our athletes but I thought I would include some of the less often used ones that I saw.  Sorry for the mobile phone video quality but it should give you an idea!
Hurdle drill: Scissor
Ground contact (stiffness) Pogo catch- walking then lift up onto toes
Ground contact (stiffness) Pogo catch- on the move
Sotos (alternate 4s)
Foot tack
Ankling
Double/Triple tap skips
As ever I hope you enjoyed the Blog and please share and Like the Facebook page and leave a comment if you have any specific questions
http://athleticperformanceacademy.co.uk/wp-content/uploads/2015/05/APA-Logo1-300x156.jpg
0
0
darren.drake
http://athleticperformanceacademy.co.uk/wp-content/uploads/2015/05/APA-Logo1-300x156.jpg
darren.drake
2014-04-25 21:48:11
2014-04-25 21:48:11
Enhancing Tennis Performance with technical running drills