Hey Everyone,
I had a fun day presenting at the APA Speed, Agility & Quickness Training for Sports Workshop.  If you have ever been to one you know it's normally a four hour format and we cover the four types of speed that I refer to at APA:
First step speed
Straight ahead speed
Multi-directional speed
Sport specific speed
For this workshop I invited a few guests to present with me and we went for a six-hour format.  In the morning there was a theory based presentation from myself and Howard Green, and Ruben Neyens did a practical session.  Then in the afternoon we all did a practical. In this blog I will summarise my theory presentation.  In the next one I will summarise Howard's presentations and finally Ruben's!
Daz Drake- The Key to a Successful programme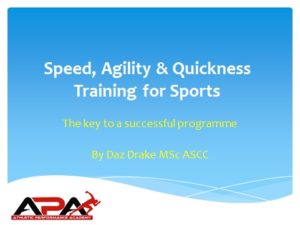 In my first presentation I wanted to set the scene for our day of talks/practicals on speed.  In the first half I was talking about the overall importance of athleticism (which I define with the 5 Biomotor abilities- suppleness, skill, speed, strength, speed, stamina).
Mindset first- don't evaluate speed unless you know they are giving 100%
LTAD- move well => move fast => move often
Moving well means having mobility and stability, built on foundations of suppleness and skill.
Skill is about perception-action coupling- identify, filter and attend to sensory information quickly
Motor skill learning- Discovery learning using implicit constraints based coaching and external cueing
Strength is key to development of force- which enables you to accelerate.
In the second part I talked about the APA Training method, how we plan speed and Debunked some myths about First step speed technique.
Planning principles- gradual change of focus moving from general to more specific speed overall course of training cycle
Multi-directional speed (stopping) => Straight ahead speed (acceleration) => First step speed => Multi-directional speed (cutting) => Sport specific speed
Importance of evaluation both at start of training cycle but also within each session
Use of chaotic games and actual tennis play as real time assessment
Key progressions for speed: establish technique => add distance => add resistance =>add repetition
Acceleration model- what to look for
First step speed- debunking myths- the key to get off the mark explosively is to step back first!
Definitions of first step according to direction travelled- dig step (forward), drop step (backwards), directional step (sideways)
Straight ahead Speed- Acceleration Mechanics
Notice the three highlighted aspects of acceleration to look for.  The athlete in the bottom is executing them better. Large first step (approximately 1.5m on first step) / High knee on second step (approximating the hip level) and good separation between knees on third step.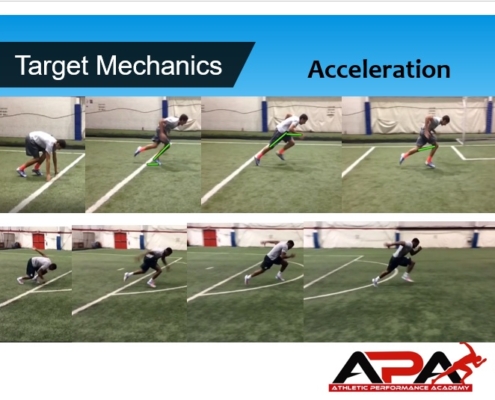 First Step Speed- dig step
Notice the "repositioning" of the centre of mass.  The body doesn't move back- it actually moves forward!! It's just the eye sees the foot moving back.  This is a natural reflexive action to initiate movement explosively from the athletic stance and is based on laws of physics- the equal and opposite force principle, and the stretch-shortening cycle of muscle contraction.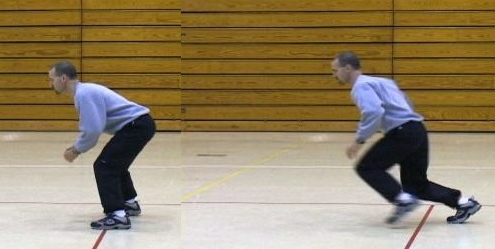 First step speed- dig step.  Look out for Fabio Fognini's explosive first step forward!
Look out for Henin's first step speed- directional step to move to the wide forehand!
Check out Rafa's running steps when he was pushed out wide.  At APA First step speed is defined explosive movement in any direction. A key point is that the movement must be sprinting based, meaning the athlete is running to the ball. Since most movements on a tennis court are submaximal (such as side steps and cross-over steps) I like to group them under the 'Sport specific Speed' category.
Where I am next presenting?
Level 2 Certificate in Strength & Conditioning
Dates: 23/24 June 2018, and 21/22 July  09:00AM-17:00PM Location: Gosling Sports Park, Welwyn Garden City, AL8 6XE
Book your spot HERE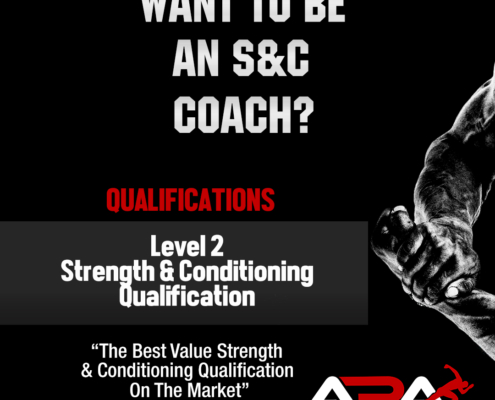 Hope you have found this article useful.  Remember,
If you're not subscribed yet, click here to get free email updates, so we can stay in touch.
Share this post using the buttons on the top and bottom of the post. As one of this blog's first readers, I'm not just hoping you'll tell your friends about it. I'm counting on it.
Leave a comment, telling me where you're struggling and how I can help
http://athleticperformanceacademy.co.uk/wp-content/uploads/2018/06/APA1fbinsta.jpg
1080
1080
dazdrake
http://athleticperformanceacademy.co.uk/wp-content/uploads/2015/05/APA-Logo1-300x156.jpg
dazdrake
2018-06-06 09:18:19
2018-06-06 09:28:18
Speed Tips from World Class Coaches- part 1