Hi everyone,
firstly a belated Happy New Year.  I resisted the temptation to do a 'Best of 2017' Blog post this year and I have previously written about all the Pro team pre-season schedule I have been using over the last few years.  You can read more about it here and here.  But needless to say December was a busy month working with the pros in their pre-season.
As we get back into the normal routine I am turning my attention to the time of year where I always do the Level 2 Certificate in Strength & Conditioning, as well as the Speed, Agility & Quickness Workshop in February.
Level 2 Certificate in Strength & Conditioning Coaching
I've been running both of these for several years now and it's always been on my 'To Do List' to create a technical checklist for the Speed element of the Level 2 qualification.  You see, 1st4sport provide you with a comprehensive checklist of technical points to highlight in your coaching for the Bench press, Deadlift, Squat etc- but there is nothing for the speed component.
So I've gone away and put some time into this so candidates coming onto the qualification will now have some teaching points that they can highlight in their coaching practicals.
APA uses a specific form of classification for it's speed component of Fitness:
Straight Ahead Speed
First step Speed
Multi-directional Speed
For more info you can go to the education resources page with further details
But without further delay here is the APA Speed Technical Checklist that you can download as a PDF for FREE.  Just click on the red title below: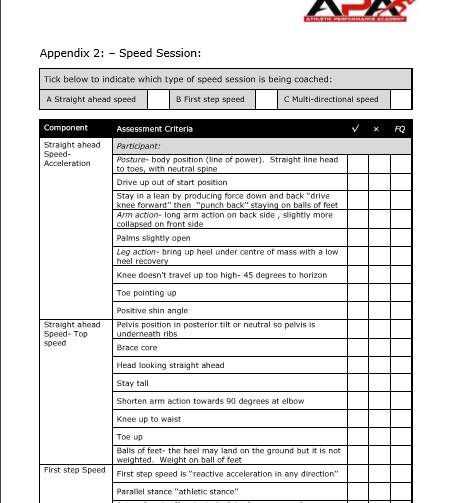 I hope you find it useful.  It will be used on the Level 2 qualification as an assessment guide for the assessor to see that the coach has a good understanding of the main technical points associated with each type of speed.
I must give credit to Lee Taft and his excellent resource 'Complete Speed Training.'  I'd also encourage you to check out Parisi Speed School who produce excellent resources on Speed.
Since you're here…
…we have a small favor to ask.  APA aim to bring you compelling content from the world of sports science and coaching.  We are devoted to making athletes fitter, faster and stronger so they can excel in sport. Please take a moment to share the articles on social media, engage the authors with questions and comments below, and link to articles when appropriate if you have a blog or participate on forums of related topics. — APA TEAM
https://athleticperformanceacademy.co.uk/wp-content/uploads/2017/10/qtq80-o3aOrv.jpeg
1440
2160
dazdrake
https://athleticperformanceacademy.co.uk/wp-content/uploads/2015/05/APA-Logo1-300x156.jpg
dazdrake
2018-01-12 11:27:40
2019-02-21 10:31:47
FREE Speed Technical Checklist