Well we finally get to the last blog of the series on Periodisation- this one is about the actual exercises I think are appropriate for Tennis, from a more specific stand point.  If you haven't read the previous blogs I suggest you do otherwise some of the terms I describe here might not make sense.
Periodisation for Tennis- Part 1
Periodisation for Tennis- Part 2
The majority of my time is spent with developing athletes who are still fundamentally poor in the basic exercises. Having said that I now have the privilege of working more and more with professional athletes.  This means I need to reflect on how their preparation period needs to differ to a younger developing player.
Intensity vs.  Specificity
For the last few years I have focused less on the use of the word 'general' and 'specific' when referring to preparation phases.  I preferred instead to just say 'preparation' and talk about whether the athlete was working on more 'basic' or more 'advanced' exercises. An advanced exercise implies it is of a higher intensity.  Therefore, the main variable I was changing was 'intensity,' as the athlete advances.
From my recent reading it is clear the training process, especially of high level athletes, must be highly specialized: the athlete must not perform useless activity that can't positively contribute to the attainment of the specific objective.  So as well as increasing intensity we must also increase 'specificity.'  This blog will develop some of my recent thoughts on how to do this.
Let's get Specific
If people take this principle out of context (like a lot of trainers have done with 'functional' training) you end up with coaches just doing therapy band tennis serves, medicine ball throws, and jumps over hurdles.  Now these may all have a place but they are never a substitute for our bread and butter exercises that we know work!!!!
This does not mean that each training exercise must reproduce the competition exercise; it's about the whole training means system.  But we do need some exercises which are closer to the actual sport skill!
Check out this video- it's a training camp in East Germany and it shows great examples of very specific exercises for elite Javelin and Discuss throwers.  Please don't judge their training by the 80's style aerobics at 6:15 minute in!  They knew no better then!  But it illustrates the point of how specific you can be with your exercise prescription.
I particularly like the javelin contraption for measuring power output at 4:00 minutes in!!!
The APA system includes a large spectrum of exercises aimed at improving different determining factors for increasing the power output of competition exercises. We can use different exercises to focus on improving different strength abilities and different functional properties of different muscle groups.
It's usually at this point that coaches may start to trade arguments about which method or methods are better for a particular sport/athlete and I don't want to come across in that way, championing one exercise or method over another. In fact I think I already said in the last blog that:
"An important consideration to keep in mind is that sports movements are usually executed in a mixed regime of muscular contraction."
But what can we take from the realm of Track & Field which the Soviets and East Germans dominated in the 1960-1980s and apply to other sports?  Clearly these coaches knew all about how to develop high levels of maximal strength and explosive power.
Take Tennis for example.  When you first look at Tennis you could be forgiven for thinking that it doesn't require a great deal of strength and explosive power. After all you are hitting a tennis ball; it's not like you're in a contact sport having to throw around another athlete or throw a weighted implement like a shot putt.
However, look a bit closer and you'll see there are many different types of forces in play; some that you produce in order to overcome your own inertia, or to forcefully plant your foot down before you complete your stroke (both require maximal strength).  Or consider the 'take off' from the ground to jump up into a high ball or 'take off' to leap into a wide ball (explosive power) or the landing forces when you come back down (maximal strength).
When it comes to exercises this means that there can't only be one tool in your tool box.  As Vern Gambetta says, 'if the only tool you have is a hammer then you had better hope you are working with a nail.'  As it relates to Tennis this is particularly true.  What exactly constitutes the competition exercise for Tennis any way?   Tennis involves elements of:
sprinting- acceleration
jumping and hopping
changing direction
rotations of the body
The Force-Velocity Curve 
By using the Force-Velocity curve I can look at the actions that take place in the sport and attempt to position them on the Force-Velocity curve.
I generally break my these actions down according to whether they mostly require:
Maximal Strength (to maintain a solid athletic look when hitting, to overcome inertia, to plant foot into the ground before a stroke, to absorb landing forces)
Explosive Strength (to generate power on

take off

when jumping up into a high ball or a wide shot
Reactive Strength (to generate elastic energy during use of stretch-shortening cycle on most 'action' events in Tennis- such as serve, normal ground strokes, accelerating to ball out of a split step, changing direction etc)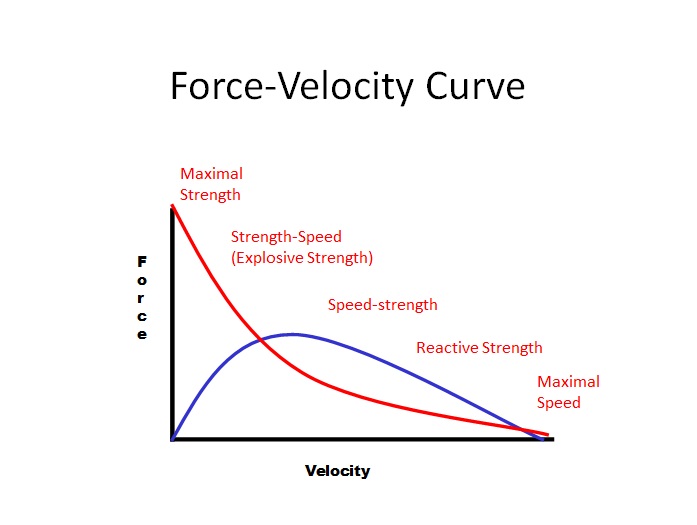 Speed-strength is pretty much the same as explosive strength except the external resistance you are working against is less so it's without the display of great power- but it is high speed
So you might do 8-10 reps with a lighter load, or do 8-10 hurdle jumps or 10 bounds (progressing to 50-60m bounds) for speed-strength but you would do half that if you were working on explosive power.
In terms of 'specificity' I've written down a few examples of 'specific' actions that happen on the Tennis court that require different strength  and speed characteristics: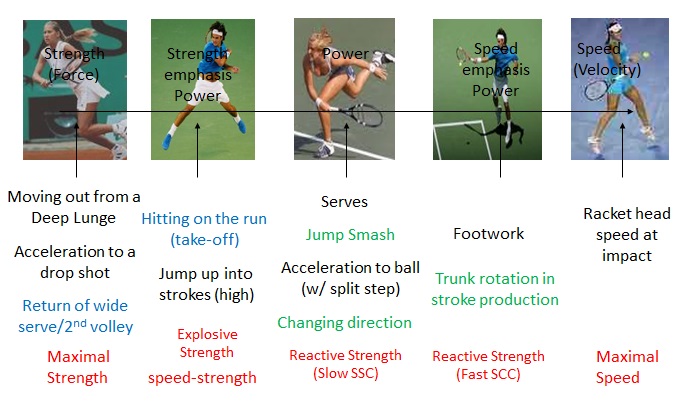 Video: Hitting on the run- Explosive Strength during take off force (right leg) and Maximal Strength during the Impact force (left leg)
Jumping up into high ground strokes (Explosive Power)
I then like to have a categorisation of 'specific' exercises that I can use to develop the physical qualities mentioned above. Some of the exercises below would be appropriate for a range of sports and could be thought of as a general exercise, while most of the exercises are more specific to Tennis. If you're not sure if an exercise is more 'General' or 'Specific' just ask yourself the question, 'would it look appropriate for an athlete from another sport to do it?'  If the answer is yes then it is probably more general.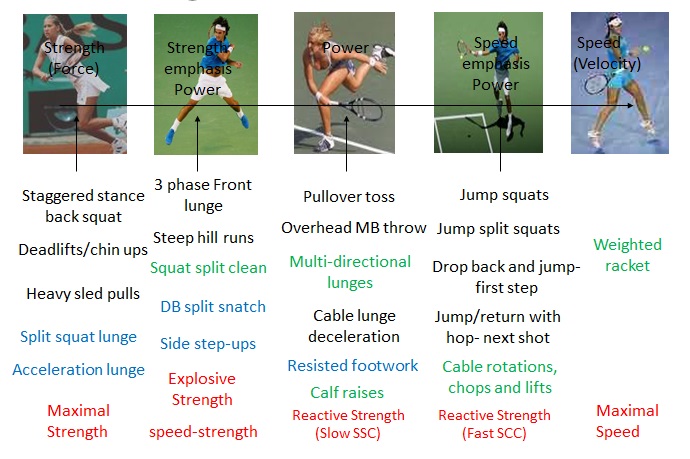 Resisted footwork
Drop back and jump- for training first step acceleration
Lunge return Hops– for developing reactive power when getting back into position after a serve
Progressing the Training Means throughout Preparation
Now clearly there are a lot of exercises above and you can't expect to master them all at the same time, so you have to have a focus.
The shift in focus should move gently from more general to more specific means.  
Considering the important aspects of specificity, the means must be introduced in the following sequence for solving the following training tasks:
1) enforcing the main muscular synergies and the other body's working mechanisms, involved in the competition exercises; (i.e. hypertrophy of gross muscle actions)
2) increasing the magnitude of force effort in the key movements; (i.e. maximal strength)
3) increasing the speed of the force employment in the key movements (i.e. explosive power)
In Fig. 3, it can be seen how this rule is applied for increasing the power output of the Track &
Field jumps through the following phases: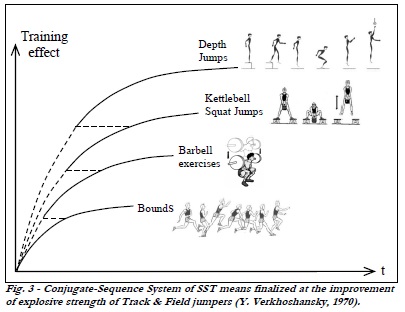 1) bounds – for getting the motor apparatus ready for executing the subsequent training loads;
2) barbell exercises – for increasing the force component of the take-off power output;
3) kettlebell jumps – for increasing the speed component of the take-off power output;
4) depth jumps – for increasing both the force and speed components of the take-off power
output through the use of highly intensive training stimuli.
So how would we apply that process to Tennis?
1) low intensity jumps (slow-fast SSC)- for getting the motor apparatus ready for executing the subsequent training loads;
2) barbell exercises – for increasing the force component of the take-off power output;
3) explosive jumps (split clean/snatch) – for increasing the speed component of the take-off power output;
4) depth jumps – for increasing both the force and speed components of the take-off power
output through the use of highly intensive training stimuli
This rule also implies that one type of exercise is gradually replaced by another.  For me this means that for my young athletes I am doing a lot of work to reinforce the main muscle synergies (such as hypertrophy work in the gym or light bounding for runners) but for more advanced athletes they are doing a lot more maximal strength and power development work in the preparation period, and need to progressively add in more specific power modalities that replicates the demands of the competitive exercise (spending a lot more time doing the exercises in my categorisation list above).
The 'general' exercises are usually aimed at increasing the level of maximal strength of the primary large muscle groups involved in competition exercise; they are fundamental for the subsequent increase in working effect of the main force producing movements of competition exercise.
Summary
We have finally got to the end of this Blog series on Periodisation.  I hope you have enjoyed reading it.  The key take home message from this last post is to know your sport.  Think about what skill or skills are most needed in your sport and then plan the appropriate training means, working from a more general foundation of strength to more explosive activities and finally the sport skill itself.
http://athleticperformanceacademy.co.uk/wp-content/uploads/2015/05/APA-Logo1-300x156.jpg
0
0
darren.drake
http://athleticperformanceacademy.co.uk/wp-content/uploads/2015/05/APA-Logo1-300x156.jpg
darren.drake
2014-05-05 16:32:28
2014-05-05 16:32:28
Periodisation for Tennis- Part 3