Whenever I take on new coaches at APA one of the first things we go through is the Physical Competency Assessment (PCA).  In this week's blog we take a closer look at this assessment.
I'll previously written about one of the assessments- the Overhead squat in a previous blog- which you can read here
The assessment methods described there are slightly different to the ones we use at APA.  I have to give credit to Kelvin Giles for first putting me on to the Physical Competency Assessment.  I had tried the Functional Movement Screen (FMS) but just felt it was too time consuming and replicated some of the musculoskeletal assessments the physio was doing.  I met Kelvin at one of the early UKSCA conferences where he was presenting.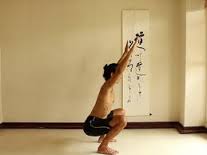 Use with Lawn Tennis Association
At one point Kelvin was also a consultant advisor to the Lawn Tennis Association and introduced it into the profiling that was done with National level players at the National Tennis centre.  This has changed and evolved over the years.  Below is a snap shot of the current profiling taking place at the LTA.
The flexibility, y-balance and core endurance assessment is the domain of the physio team.
With regards the physical comps, the tests have remained the same (OH squat, SL squat, Forward & Lateral hop & hold and Press-up) for quite some time.
The purpose is to assess range, patterning and stability in bi-lateral, uni-lateral and dynamic balance exercises plus a measure of trunk / upper body stability & function too.
In rather simplistic terms, a score of 1 represents poor range and dysfunctional movement, 2 is fewer and/or smaller dysfunctions, 3 is appropriate and repeatable technique.
Over the last 9months, feedback has almost exclusively been related to OH squat as there was enough to highlight here rather than open a bigger can of worms with the single leg exercises.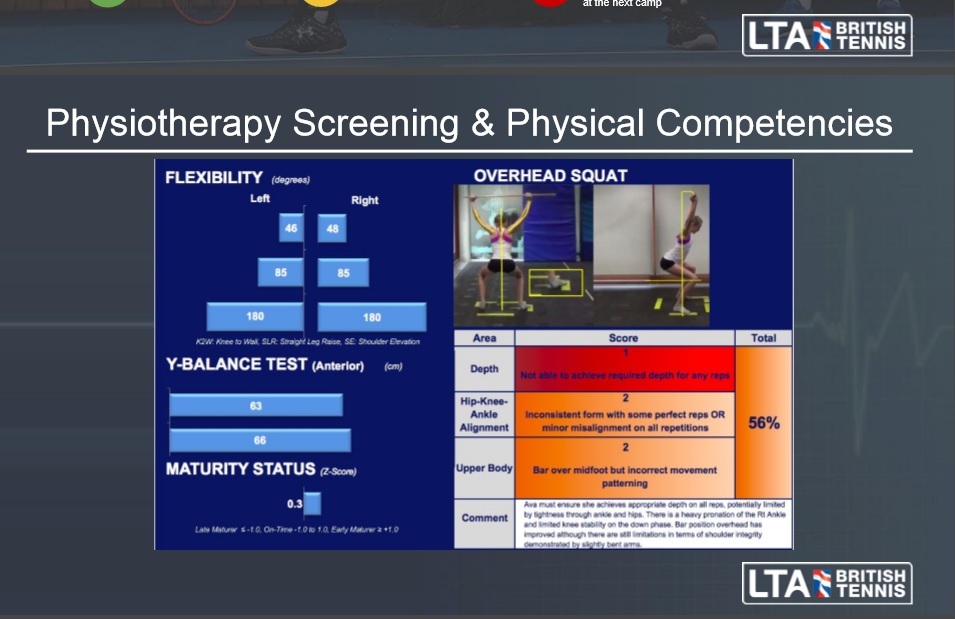 Use with Athletic Performance Academy (APA)
Rather than type lots of words here I will simply share with you a video that I made for my coaches.  You can have it too!
Remember:
If you're not subscribed yet, click here to get free email updates, so we can stay in touch.
Share this post using the buttons on the top and bottom of the post. As one of this blog's first readers, I'm not just hoping you'll tell your friends about it. I'm counting on it.
Leave a comment, telling me where you're struggling and how I can help
Since you're here…
…we have a small favor to ask.  APA aim to bring you compelling content from the world of sports science and coaching.  We are devoted to making athletes fitter, faster and stronger so they can excel in sport. Please take a moment to share the articles on social media, engage the authors with questions and comments below, and link to articles when appropriate if you have a blog or participate on forums of related topics. — APA TEAM
https://athleticperformanceacademy.co.uk/wp-content/uploads/2017/06/qtq80-xJUwRj.jpeg
1440
2160
dazdrake
https://athleticperformanceacademy.co.uk/wp-content/uploads/2015/05/APA-Logo1-300x156.jpg
dazdrake
2017-06-29 12:37:27
2018-05-27 20:12:21
Physical Competency Assessment