This blog is one I am really excited to write.  I have been really enjoying mentoring some of my assistant coaches recently.  Like all things in life there are challenges to every business.  I recruit a lot of part-time S&C coaches, who at some point will often move on to a full-time job unless I can offer them one first!!!  But while they are with me I do everything I can to assist in their development.  Lately I've been on the shoulders of a few coaches more than usual as I am seeing if they can step up from assistant to a lead role- or whether I need to bring in some more 'talent' who are perhaps more ready to take the lead.
So what are the ingredients I am looking for from a great coach? Obviously a big part of this is the Quality of the Session Plans- it's the 'what you coach.'  I can help here by providing session plans.  But there is also the Quality of the Delivery- it's the 'how you coach it.'  A big part of my role is challenging my team by role modelling some of the behaviours that I want to see in my coaches in terms of how they engage the children with their communication.
I thought I would share some of the learnings here and I'll address both topics in this post!  For those of you in a rush and just want me to get to the punch line, well I can summarise that playing games with kids is one of the main ways we can easily create a fun learning environment.  It can be a bit of a crutch for a less experienced coach who is still finding their voice! Let the games be the coach!
You can read more about this topic in my FREE Ebook:
To download the "Fun Games for Kids Ebook" click the link below: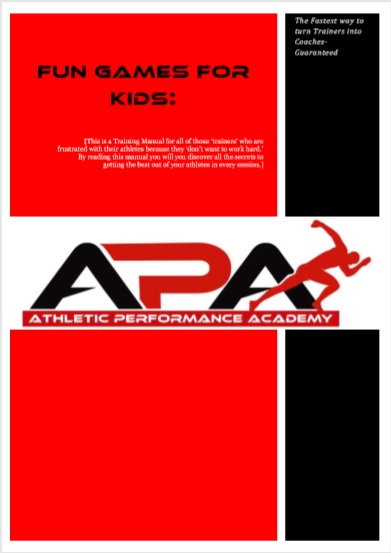 Question:
"Are all coaches born or are they made?  Can some coaches that initially seem to lack the knowledge, skills and even personality to be a great coach then grow into one over time with good mentoring?…"
I often think about this and want to start with some thoughts of mine.  Let me start by setting the scene.
Long term coach development??
Youth Training is one of my passions.  I think practitioners like Rhodri Lloyd have done great work to pave the way for new understandings of the training process and long-term athlete development (LTAD) principles.  But coach mentoring is my absolute favourite thing to do.  If there was such a thing as long-term coach development (LTCD) what types of skills would we expect to respond greater to training at certain times in a coaches development?
Is there an argument that coaches respond better to certain training once they are 'emotionally' mature?
If we think that an athlete goes on a long term development journey to first learn some skills and then train them and then apply them in a competitive match environment, then wouldn't it make sense that a coach could also need to learn some communication skills and train them, as well as all the book smarts they have to learn vocationally or academically?
I don't always feel many student coaches that I mentor have necessarily learnt as much about how to coach at university as they have about what to coach!!!!!!!
Being a business owner I am somewhat like the national coaches of sport conducting talent ID.  We know that an evaluation/test is only a snapshot of someone's ability at a point in time.  It may not be a reflection of their potential.  There are so many variables at play! Maybe when I interview a coach who has no experience I see something in them and I give them the opportunity to grow with my organisation. But if I know a coach has several years of experience and they don't create a great environment then perhaps I don't give them the same opportunity.
I need to respect that I am running a business and it has a reputation to protect.  I can't allow coaches opportunity to learn from making too many mistakes resulting in poor feedback on the quality of the sessions from the children and parents.  That's why I have lead coach roles and assistant coaches/interns.
But regardless of role they do, they have to show me something that makes me think they will fit in with my company.  So what is that 'something?'  I try to be objective in my assessment so I can give good feedback to coaches who I may or may not give a job to.  It also gives me ways to give specific feedback in coach appraisals and mentoring programmes.
I'll previously posted on Communication numerous times.  This is a key part of being an effective coach:
Lessons we can learn from Sir Alex Ferguson
Essentially it always comes down to three things:
Creating the environment
Setting the scene
Asking for Feedback
What does the Research say?
Last year November 10th 2017 I had the opportunity to do a guest lecturer visit at the University of Hertfordshire as part of the third year 'Advanced Coaching Module.'
Take a look at the video below created by Joshua James:
Coaching Employability and the Coaching Process
This is just to give you some background on my coaching style and also some evidence in the research to support some of the behaviours I was using.  Now not everyone is going to coach in the same way and the same style.  But I feel we need some sort of operational definitions of the 'characteristics' of a world class coach and at APA I define them as:
Definition of an Athletic Performance Academy Coach
An inspirational, honest, professional, courageous, self-aware, self-disciplined leader who coaches unconditionally and effectively and is rigorous in developing themselves as well as their athletes
Values
Instilling Values to Develop Yourself- 
If the definitions are the behaviours we can see then the values are the deeper aspects of our very core that manifest themselves in our behaviours.
These are psycho-emotional and spiritual factors that we want to develop in ourselves and in our athletes in order to help us achieve our highest potential (getting the best out of our talent).
It is a balanced approach to developing the PERSON first and the ATHLETE second.
Values- Commitment, Excellence, Courage, Competitive Spirit, Respect, Enjoyment
I am quite a high energy guy.
I like to get my passion across by being quite animated and vocal.  I like to be heard and when I am giving feedback I tend to get quite excitable when someone is performing something well (or not performing well).  I need to let them know I care about their performance and it is important to me.
But on the flip side I know I have to do this 'compensate' for the choice of drills I like to use.  More on this below.
I also coach quite explicitly (which is something I am trying to work on!)
I have had a lot of chats with coaches over the years about implicit vs explicit coaching.  Anyone who has studied the motor learning literature can tell you that explicit instructional coaching works better in the short term- children move better in the drills.  But longer term and in more chaotic environments the children who were 'over coached' tend to struggle to move well.
You see I tend to default to giving too much information rather than too little.  I tend to internalise movements by drawing children's attention to where their body is in time and space (explicit feedback).  I want 'this joint angle' not that one; 'I want the arm to move to here not there!!'  "Move your feet wider apart!'  Implicit feedback relies more on creating an outcome result but not giving specific feedback on how to achieve the outcome- so you give them more time to solve the problem themselves.  You tell them where you want them to move to, or the target to throw so it's more about external cues. This is known as a 'non-awareness strategy."
Because I am more explicit it means I like to coach within closed drills that slowly open up into more chaos.  It allows me to instruct and correct more easily.  Other coaches would try and coach within the chaos as the norm using conditioned games and competitions- and let the athlete have more opportunity to self organise and auto correct through trial and error.
Because I am more inclined to close skills down into their component parts it 'could' be less fun and engaging for the children. But I compensate with loads of energy and enthusiasm for the drills and I give the children feedback on how well they are performing the tasks we are doing.   Without the energy and the input from the coach the drills would be too boring.
And that was the inspirational for the 'Fun Games for Kids' syllabus.  We always play games at the beginning and end of sessions any way.  The games in the Ebook I created are categorised so that coaches can use the most appropriate type of game to test/challenge a particular type of speed or coordination.  The Ebook gives my less experienced coaches some 'Games' to use as an evaluation tool and to compliment the 'skill development' drills I like the children to practice to learn the correct technique.  You could say it is a crutch to help them create a more inspirational learning environment by appealing to our natural desire to play!  I will always advocate certain skill development drills to instil the proper mechanics but these days I will get to the chaos sooner and make it a bigger part of the learning than in the past.
I also wrote the Ebook for me- to challenge my ability to teach/train skills through more chaos.  To test myself to see if I can refine technique in more chaos rather than always making it easy for myself.  I have noticed that mistakes are more visible in chaos- movements that aren't repeated over and over- don't look as good as if I just drill them on the same thing ten times in a row.  But over time they can make little corrections.  Longer term they will be able to manage themselves better in the chaos.
So let's look at some of the other ways to inspire the children beyond just playing games and the drills themselves.  What about the delivery style and communication?
Creating the environment
The environment I want is an environment that promotes Listening, Learning and Fun.  I believe that the best way to do this is to be inspiring!! Remember the 3 P's:
3 P's of Inspiration
Passion: Grab their attention
There are different ways to do this.  My style is through my own high energy but you can convey passion in different ways- it's about getting your athlete or group to be engaged in what you are saying to them/showing them.  They have to feel something from your words or actions.
Presence: Respect clear rules
Energy will only get you so far if you can't channel it and control it- especially with children, and especially if you are using some of the games in the Ebook.  You need to have a presence.  It doesn't mean you have to be a big scary person. It's about Respect.  One of the best things you can do with groups is set rules/expectations of behaviour/routines and BE CONSISTENT with these and any consequences for non compliance!
Purpose: Set the scene- expectations / get buy in 
To get your athletes to focus it is important to set the scene with the what-why-how.  I want my coaches to do this with the Games as well so the children can at least think a little bit about why they are playing a particular game and how they can perform to have more success at it.
I personally default to closed drills as I said before.  But one of the reasons I hold the attention of the children is that I am VERY CLEAR with the teaching points and know exactly what I am looking for.  I expect the children to respond to the challenges I set them.  Even though the drills are closed at times- I have clear expectations of how I want them to do it and I think the children engage in this challenge of getting the process correct!
Let the drill teach the skill: Multi skills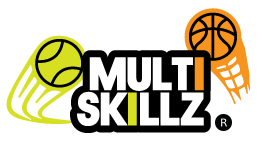 Take a look at my summary of the multiskillZ curriculum I wrote.  I recently bought this product and you can see the review in a previous blog.  In terms of setting the scene it's a lot easier to get buy in when you're having fun!!!! That was one of my motivations to get the multiskillZ product because I wanted to get some new ideas for fun skills and drills!  But it's also because I want to challenge myself to set up the environment differently!
One of the the things I really enjoyed reading about was the information on Session structure, how to start and end the session, and all their thoughts on periodiation.
Athletes will always respond well to drills that are:
Fun
Competitive
Challenging
Generally speaking games based drills are more fun so rather than just doing closed technical drills, more open drills that involve running and use of a variety of skills are more fun.  Athletes always enjoy opportunities to apply their skills.
Keep score to hold interest and promote competition and most importantly stretch your athletes by making them aware of world class levels of performance.  I think it's always easier to challenge them by setting the level high and see if they can reach it.  To do this you as a performance coach need to have an awareness of standards and know what world class looks like!
Too often we might berate athletes for not working hard enough but if we don't stretch them in the first place they may not have a reason to need to work hard!
Give them a choice
When you set the scene you can also:
a) give them a choice how hard they want to be challenged- they can decide how challenging they want the drills to be
b) give them a choice if they want to stop or keep going (when the drill is challenging)- but they must know that IF they decide to KEEP GOING they will need to meet the demands of the drill.
Summary of a great coaching session
There a number of ways to define world class coaching- from a communication stand point I find it helpful to describe the characteristics so I can give more constructive feedback, 'An inspirational, honest, professional, courageous, self-aware, self-disciplined leader who coaches unconditionally and effectively and is rigorous in developing themselves as well as their athletes.'
What does that look like in terms of the outcomes we want for each and every session:
Listening • Children show respect by listening when the coach is talking • Coach needs to have something 'interesting' to say • Keep the information concise and concrete • Select a few simple teaching points • Show a god demonstration and then ask one of the children to demonstrate it back to the group to check for their understanding
Learning • We are coaches not baby sitters • Provide appropriate amount of instructional/corrective feedback to enhance movement skills  • Children should be able to tell you one or two key features of correct technique
Having Fun • Competition is good as there are natural in built outcomes because of the score line • But you can still create attention on the task by setting expectations for behaviour/performance level • Tell them exactly what you are looking for and give feedback on their performance.
Children need to be stimulated and in my opinion it is possible to give them a session which is as fun as their favourite sport.  You just need to think about what children like about playing sport playing a computer game.  Can you challenge them and make them compete to achieve a task that they want to complete!!!!
The fact remains that some coaches may have more talent for 'communication'.  They may be more at ease in front of people and have more natural presence.  By everyone can be a better coach.  I just have to decide whether they can improve quick enough and to a level high enough to work for APA!!!
I hope you found this blog useful.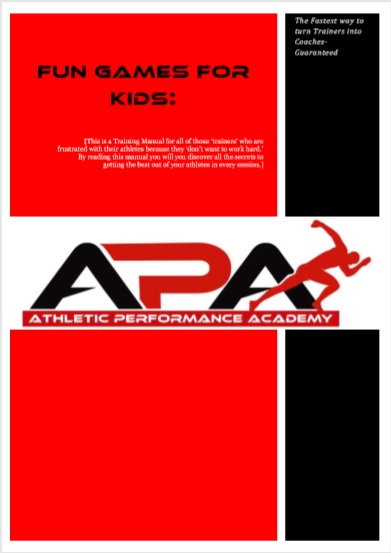 To see the entire APA Games Syllabus download the FREE EBOOK below:
Remember:
If you're not subscribed yet, click here to get free email updates, so we can stay in touch.
Share this post using the buttons on the top and bottom of the post. As one of this blog's first readers, I'm not just hoping you'll tell your friends about it. I'm counting on it.
Leave a comment, telling me where you're struggling and how I can help
Since you're here…
…we have a small favor to ask.  APA aim to bring you compelling content from the world of sports science and coaching.  We are devoted to making athletes fitter, faster and stronger so they can excel in sport. Please take a moment to share the articles on social media, engage the authors with questions and comments below, and link to articles when appropriate if you have a blog or participate on forums of related topics. — APA TEAM
https://athleticperformanceacademy.co.uk/wp-content/uploads/2018/02/Fun-Games-for-Kids.jpg
553
391
dazdrake
https://athleticperformanceacademy.co.uk/wp-content/uploads/2015/05/APA-Logo1-300x156.jpg
dazdrake
2018-02-28 15:01:33
2018-05-27 20:11:10
FREE Ebook: Fun Games for Kids