Hi Everyone!
With summer around the corner attentions are turning to exercise to lose some unwanted belly fat and get fit.
Last night I tuned in to "How to Get Fit fast," a series on Channel 4 which offers viewers top tips on how to get fit and lose weight, particularly in time for summer. This week's episode focused on body-weight exercises as well as the right foods to add to your diet to aid workouts and help get rid of belly fat.  See a full review of the programme HERE which focused more on the nutritional advice given on the show.
I'd like to focus on the exercise regimes they discussed- which were designed to be done during a lunch break according to the time different workers set aside for lunch.  Apparently the average British worker takes 34-minutes off for Lunch.  In this show they designed a workout for someone who takes 30 minutes, 20 minutes and 5 minutes for lunch!!
All the workouts are based on a percentage of your maximum heart rate (MHR) to gauge intensity.  I have previously used the First beat system when measuring heart rate zones.
The First Beat System uses the following Training zones:
Max => 90% +
Very Hard => 80-90% MHR
Hard => 70-80% MHR
Moderate => 60-70% MHR
Easy => 50-60%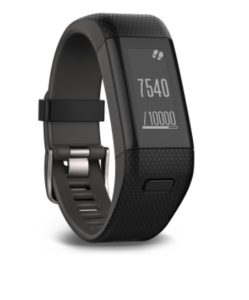 Different Types of Workout:
Option 1: 30-minute workout
Mode: Steady running on a treadmill for 30-minutes
% MHR: 65
Calories burned during exercise: 260
Calories burned after exercise: 0
Total calories burned: 260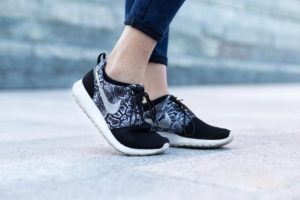 Option 2: 20-minute workout
Mode: High Intensity Interval training (HIIT) for 20-minutes.  60-sec work: 30-sec rest bodyweight calisthenics (stair runs, wall sits, mountain climbers, jump squats)
% MHR: 85
Calories burned during exercise: 180
Calories burned after exercise: 100
Total calories burned: 280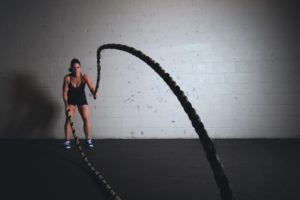 Option 3: 10-minute workout
Mode: Sprint Interval training (SIT) for 10-minutes.  20-sec maximum work: 120-sec rest bike sprints x 4 sets
% MHR: 95+
Calories burned during exercise: 30
Calories burned after exercise: 220
Total calories burned: 250
What does this mean?
The conclusion is that any of the above workouts can work for you to burn around 250 calories.  But depending on how much time you have you can choose from the steady run, HIIT or SIT.  However, you will require to have a higher level of fitness to cope with the demands on the body of the HIIT and SIT workouts, so always consult a doctor before starting any of these workouts.
The benefit of the HIIT and SIT workouts is that they are more efficient.  They burn less calories than steady running during exercise but your body continues to burn calories after exercise, known as the 'After Burn.'  When you exercise at high intensity you won't be able to use oxygen to supply the energy so you have to use energy from elsewhere in the body, which raises your metabolism.  Your metabolism will continue to stay elevated in the 24 hours after your exercise, which explains why you continue to burn calories.
How does this calorie burn compare to Tennis?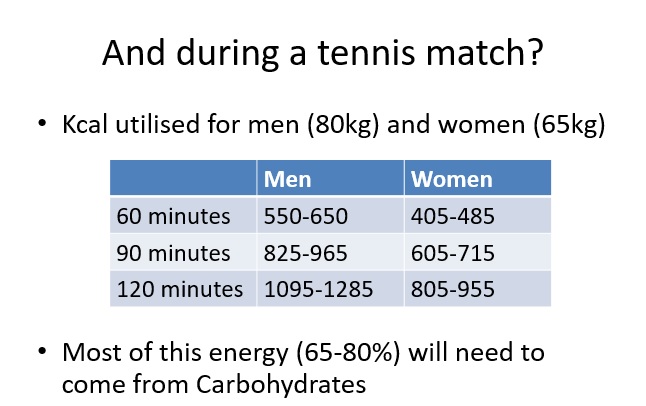 Clearly you can expect to burn around 500 calories during a 60-minute tennis match, which is similar to an hour of boxing or a 10km run. But if you want to try an alternative way to get fit for Tennis there are a couple of other options:
Tennis Workout: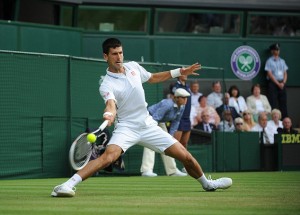 Option 1: 10-minutes HIIT Footwork
Use some of the drills I have shown in a previous BLOG on Tennis specific endurance tests.
Option 2: 20-minutes Hitting Balls
Benedikt Linder uses actual hitting until they get to about 95% MHR- which might take around 20-30-sec followed by rest until it drops to 80% MHR- which might take 30-40-sec. Do this 6-8 times per set, 3-min rest between sets and do 2-3 sets.  Usually it will take around 10-15 balls fed side to side to get the heart rate into this high zone.  As soon as it does you can let them rest.
In my previous blog Heart rate monitors in Tennis you can find out more about how Benedikt Linder performs high intensity intervals ON COURT with the aim of getting your Heart rate above 80% of your Maximum.
Where I am next presenting?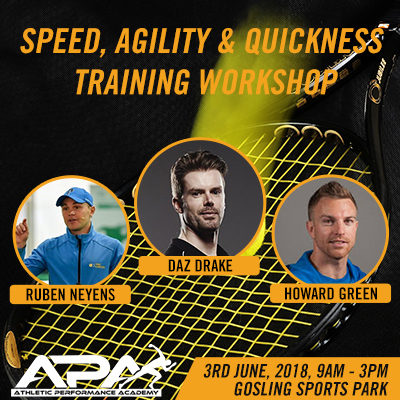 Speed, Agility & Quickness Training for Sports Workshop
Dates: 3rd June 2018  09:00AM-15:00PM Location: Gosling Sports Park, Welwyn Garden City, AL8 6XE
Book your ticket HERE
Hope you have found this article useful.  Remember,
If you're not subscribed yet, click here to get free email updates, so we can stay in touch.
Share this post using the buttons on the top and bottom of the post. As one of this blog's first readers, I'm not just hoping you'll tell your friends about it. I'm counting on it.
Leave a comment, telling me where you're struggling and how I can help
https://athleticperformanceacademy.co.uk/wp-content/uploads/2018/05/IMG-20180421-WA0013-1.jpg
1200
1600
dazdrake
https://athleticperformanceacademy.co.uk/wp-content/uploads/2015/05/APA-Logo1-300x156.jpg
dazdrake
2018-05-26 15:12:01
2018-05-27 10:36:48
How to Get Fit Fast- ready for the Summer!