In this week's blog I would like to give an example of how we can develop the role of S&C in sport skills coaching at the elite level. Last week I wrote about some of the ways we can assess/train physical qualities within a sports coaching session (click HERE). This should hopefully empower sports coaches to work on the fundamentals even if they don't have the resources to pay for a full-time S&C coach.
Footwork Fitness
In this instance I want to talk about a session where a sports coach could conceivably be working on development of a physical quality (endurance) while at the same time working on a tennis player's sports skills (footwork).
This week I had the privilege to work with a professional Tennis player who as part of their physical programme was incorporating some endurance into their training week.  Given that the workload of a professional player's session is often at the high end of intensity and mechanical loading it is often smart to think of ways to either:
a) incorporate cardiovascular endurance into tennis sessions
b) perform additional cardio sessions that minimise excessive joint loading
Some times you actually want to do more mechanical loading such as a running based session but with all the pounding the body takes from moving on the court for 2-4 hours per day, in this case we went for an option that put less impact loads on the body by working on footwork rather than sprinting or high intensity running.
Use of a mask
For this session the athlete is wearing a training mask 2.0.   Find out more about it HERE
Here's an overview of what the developers have to say
Respiratory training is a new concept in the fitness arena and the Training Mask 2.0. is a light, hands free, functional respiratory resistance trainer that strengthens the muscles you use to breathe. The diaphragm is the centerpiece of your breathing musculature.  Training Mask 2.0 kills two birds with one stone by strengthening your breathing muscles and creating a hypoxic environment for you train in. No mountains required.
I have seen social media light up with haters ready to criticise use of any such training device.  But just to be clear I use it for one simple reason- it makes the athlete feel like the session is harder.  I'm not going to enter into a debate as to whether it creates hypoxic conditions or it doesn't, whether it increases VO2max or it doesn't or whether it strengthens the breathing muscles or it doesn't; I'm simply finding a way to jack the heart rate up without needing to increase the mechanical loading associated with high speed running and/or change of direction.  It does!
Feedback from the athlete is that the same footwork drills done wearing the mask make him feel like he is working much harder.  I'm actually going to ask the athlete to repeat the same sessions in a few days without the mask so I'll put the heart rate data up for comparison.  But I can tell you in advance, what you will see is that the heart rate will be higher for the same level of footwork intensity wearing a mask, and that's all that we care about.
Work to rest Ratios
I have posted the video below and the screen shots of the Heart rate data so you can see the cardiovascular response to a session which a Tennis coach can easily do with a tennis player that will help develop some sports skills (footwork) at the same time as working on endurance.
This five-minute video shows you a complete session plan that was used with a Professional Tennis player that works on cardiovascular endurance whilst performing tennis specific footwork patterns.
By keeping the work to rest ratio 2:1 and using work intervals between 20 and 40-seconds it keeps the heart rate elevated.
Session Plan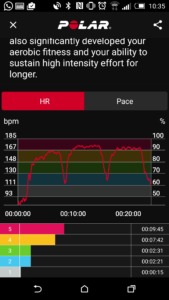 Summary
The average heart rate of the session was 152bpm and the Maximum Heart rate was 175bpm for a male Professional player.  This is actually very similar to the Heart rate profile of a competitive match- although the actual work profile of the entire match will look slightly different to the heart rate summary profile above.
First step speed 6 minute block
Figure 8 lateral 20 seconds work: 10 seconds rest x 2
Figure 8 forwards 40 seconds work: 20 seconds rest x 1
Figure 8 backwards 40 seconds work: 20 seconds rest x 1
Repeat again, then have 90-seconds rest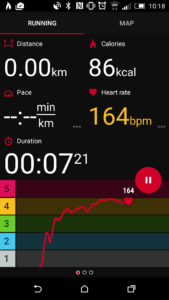 Tennis footwork: lateral baseline movement 6 minute block
All exercises 30 seconds work: 15 seconds rest
Forehand only
Backhand only
Forehand and Backhand
Forehand and Inside Out Forehand
Repeat again, then have 90-seconds rest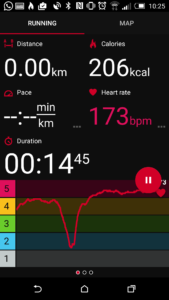 First step speed Diagonals 6 minute block
All exercises 40 seconds work:20 seconds rest
Short Backhand: Deep Forehand
Short Forehand: Deep Backhand
Short Forehand and Backhand: Deep Forehand and Deep Backhand
Repeat again, then have 90-seconds rest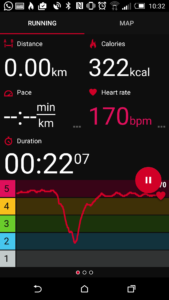 Total time: 24 minutes
Heart Rate Recovery
The goal is to get the Heart Rate down to 120 beats per minute after every 90-second rest period which the athlete successfully did indicating a high level of conditioning.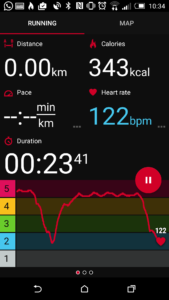 Hope this helps and I look forward to hearing how you get on applying these drills into your own training.
https://athleticperformanceacademy.co.uk/wp-content/uploads/2016/08/Screenshot_2016-Summary-1.png
1920
1080
dazdrake
https://athleticperformanceacademy.co.uk/wp-content/uploads/2015/05/APA-Logo1-300x156.jpg
dazdrake
2016-08-18 16:10:28
2018-05-27 20:12:40
Footwork Fitness