In this week's blog post I want to discuss a topic which has come up again recently, and it's a topic that will not go away.  It concerns resistance training and youths.
Pictures of Cruz Beckham on Instagram lifting heavy weights prompted the question  — how young is too young to be performing bench presses?  Unfortunately (in my opinion) the article published in the Times which commented on this question allegedly summarised that resistance training before puberty should focus on bodyweight training (author note- I haven't read the article myself as I don't subscribe to the Times online) .  This was quickly followed by an article in  Athletics Weekly which basically said the same thing.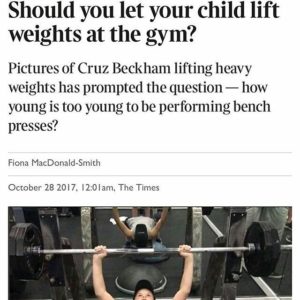 The link to the Times article is HERE
So is bodyweight training before puberty the only solution?
I will leave it to two juggernauts in the pediatric research field to answer this question.  Coincidently their article came out at the same time which was called "How Young is too Young to Start Lifting Weights?"  It was authored by Gregory Myer and Avery Faigenbaum.  I won't steel their thunder and quote the whole article, rather do yourself a favour and read it in full HERE.  But I will highlight one of the interesting sections that stood out for me.
"Just as with an adult, kids work at bodyweight until they can perfect their form," Faigenbaum says. "Once a child can perform the basic movement of a bench, squat, or lift correctly, he earns the right to progress to adding weights to it. We certainly have teens in our programs who can squat double their bodyweight, but they've built up to that weight over time."
And for helicopter parents concerned about their kids handling added weight, consider this: When kids run and jump and play, they land and hit the ground with an impulse load of 2–10 times their bodyweight going through their bones and joints, Myer says. That means a healthy 10-year-old boy can be looking at some 1,000lbs on his joints—which is way more than anyone's suggesting he squat. Without learning the proper way to jump and land—and without building a strong foundation to absorb that impact—that 10-year-old boy is at a much higher risk of injury absorbing that impact without any training under his belt."
I refer to a few more sections of the article in my latest episode of Daz Dee TV Episode 15.
Why 12-year olds should lift weights
In a follow up to the Athletics Weekly article Richard Blagrove wrote a piece outlining why 12-year olds should lift weights!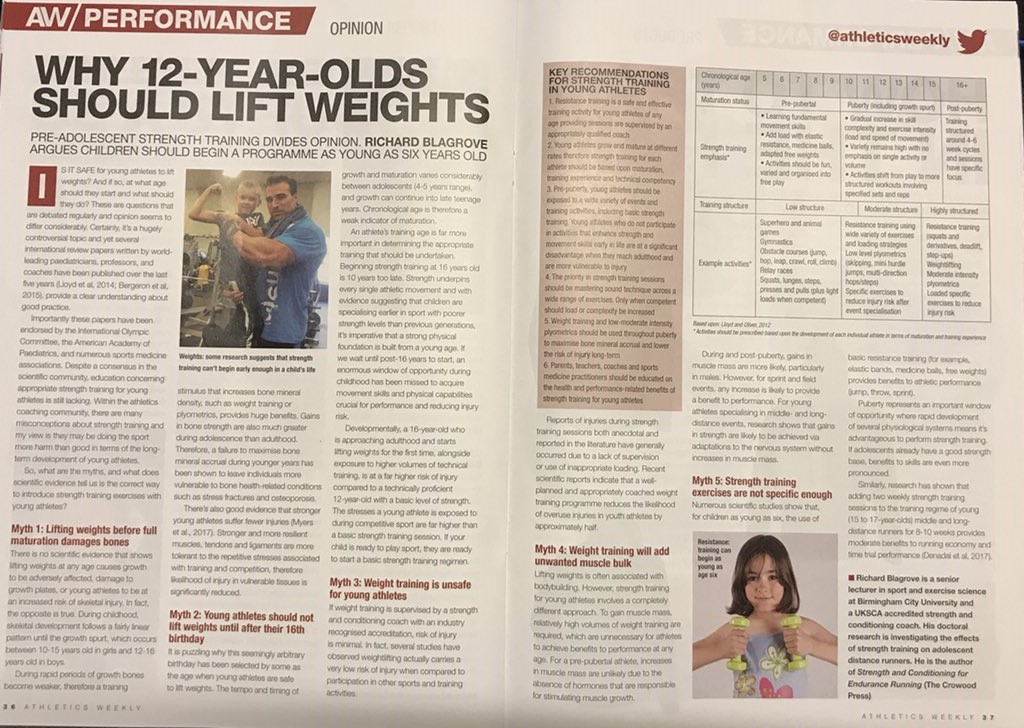 I guess these myths will keep on being rehashed and passed down the generations but I hope you'll agree that the three authors above (Greg, Avery and Richard) make compelling arguments for why parents and coaches need to rethink their positions on resistance training in youths.
Where I am next presenting?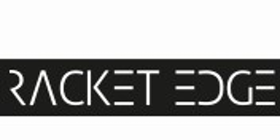 Tennis Fitness, Sport Science and Coaching Conference
Dates: 9th December 2017  09:00AM-12:00PM Location: Sheffield Hallam University Collegiate Crescent Campus, Sheffield , S102BP
Book your ticket HERE
Hope you have found this article useful.  Remember,
If you're not subscribed yet, click here to get free email updates, so we can stay in touch.
Share this post using the buttons on the top and bottom of the post. As one of this blog's first readers, I'm not just hoping you'll tell your friends about it. I'm counting on it.
Leave a comment, telling me where you're struggling and how I can help
https://athleticperformanceacademy.co.uk/wp-content/uploads/2015/06/bigstock-Prepare-To-Run-1598195.jpg
594
900
dazdrake
https://athleticperformanceacademy.co.uk/wp-content/uploads/2015/05/APA-Logo1-300x156.jpg
dazdrake
2017-11-27 22:28:56
2018-05-27 20:12:19
Why 12-year olds should lift weights!