Well, it's got to that time of year again where the junior Academy programme quiets down for Christmas but the Pro team are back with a vengeance to really hit their training hard!!  Christmas time means only one thing in Pro Tennis- Pre-season!!!!  I get to work with our pro players for any where between 4 and 6 weeks of uninterrupted training.

Most of the guys came back the start of December 2013 and will train with APA up until the end of the second week of January 2014 ready for the British Futures circuit.  For those guys who are ranked inside the top 250 in the world they started a bit earlier because they need to be fit for the start of the Australian Open qualifiers.  It's been well documented in British Tennis that Gosling Tennis Academy currently have 3 of the top 6 men in British Tennis training there! So some are staying in the UK and some are travelling to Asia/Australia for the ATP tour events!
For this blog I thought I would summarise the overall themes of the Training Blocks that these guys have been following and discuss some of the rational for the design of the training.  If you haven't already read the APA Training Philosophy blog series I did in October 2012 I would definitely recommend you read APA Philosophy 8 on Training Density.  This is a pretty good overview of my thoughts on how to set up a training week for pro athletes.  It's worth mentioning that tennis doesn't really have an extended off-season.  After a few weeks off in mid November to recover from the long season (January to November!) they kind of jump straight back into training- which I guess is more like the pre-season of other sports.  Normally, you would be looking to develop qualities of speed, strength and power in the off-season over 2-3 months and then look to bring up the conditioning aspect of endurance in the pre-season over another month or so. As Tennis is not afforded the luxury of time you have to get the balance between developing the qualities mentioned above in a space of 4-6 weeks!!!
APA Pro-Team Training Block
My initial aim is to develop the important qualities of strength and power but also have one eye on the fact that they may be required to endure long matches right around the corner so we can't neglect conditioning completely.  To achieve this I break the 6 weeks into two- the first phase is more focused on strength/power and speed.  The second part is focused more on endurance.  The first part has what I consider 6 sessions focused on neural overload (those in red or green boxes) and 4 sessions focused on metabolic overload (those in purple). The rest are either tennis sessions, recovery S&C sessions or off court classroom sessions.
Start of the Training Block: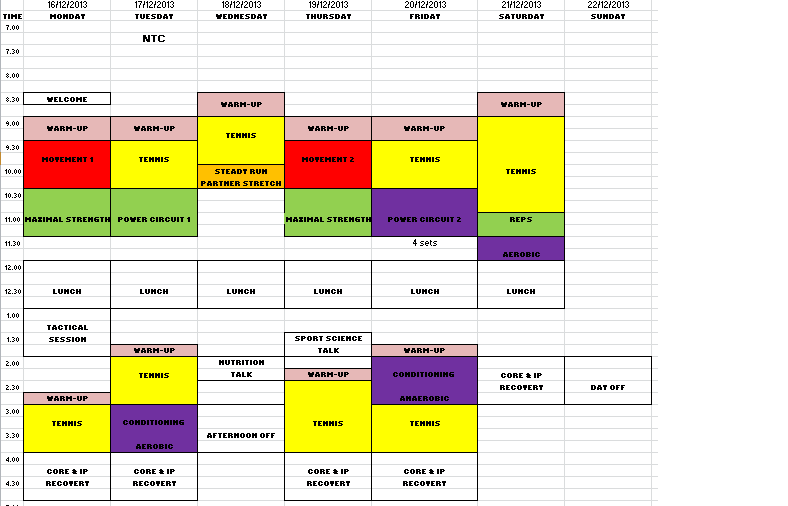 Figure 1. Pre-season week 2 of 5.
I've chosen week 2 to show you as week 1 was slightly different due to it including testing sessions on Monday and Tuesday.  Week 2 is a pretty good guide to the set up for the week's training where I am focusing on strength, power and movement.  So basic structure is half-day Wednesday and full day-off Sunday.  The idea is that high neural demand activities that require the athlete to be reasonably fresh (strength/power and movement sessions) are done earlier in the week and/or following a rest day.  The highest volume of conditioning work is saved for the end of the week.  This way I can start the week with neural overload and finish it with metabolic overload.  Therefore, Monday and Thursday are big strength/movement days (lots of neural fatigue- planned specifically to be done the day after a rest).  Friday and Saturday are focused on conditioning.  
Note: all sessions in purple boxes are metabolic focused.  The power circuit on Friday is a metabolic session because it involves repeated efforts of jumps, throws and sprints with incomplete recovery.  The aerobic session is an submaximal interval session usually on a bike, and the anaerobic session is repeated sprints on a tennis court, again with incomplete recovery.
Neural vs. Metabolic Training
I did think about leaving out the conditioning session on Tuesday afternoon.  There are a lot of coaches that will say don't mix your neural and metabolic sessions in the same day, especially if the last session of the day is metabolically demanding.  The rational being that you will dilute the training effect and the body will remember the last training stress of the day and adapt to that most.  But I put the aerobic session in because I wanted to make sure that the athletes were getting a sufficient volume of training in on the full days (3 sessions a day of S&C including the recovery session) and I felt there was still a strong enough emphasis on neural work over the course of the two days to warrant them doing one conditioning session (aerobic intervals) as the last big session of the day on Tuesday.
Strength vs. Power vs. Hypertrophy
In my previous blog on Training Density I talked about how in-season I normally go for 2-3 weights sessions per week due to the competing demands of the athlete's sport.  Well in the off-season/ pre-season I'm open to going up to 4 or 5 sessions because this is the only time I can create enough fatigue to overload the body without worrying about them being able to perform in their sport.  I guess the template I have gone for is similar to the one Olympic weight lifters use where there is two days of push (maximal strength- Monday and Thursday).  But I haven't gone for two pull days (power -typically done on Wednesday and Saturday).  I've gone for one power day (Tuesday) and one more hypertrophy only day (Saturday). They are power endurance athletes so I replaced one of the power sessions for a power endurance circuit.
Maximal Strength:
I personally subscribe to the view (which is supported by research- see blog for more information) that you only need to do 2 maximal strength sessions per week to develop strength in advanced lifters.  I consider this particular group advanced because they can all squat between 1.5 and 2.0 body weight on their 1RM test to good depth (thighs parallel). Therefore in this programme I have elected to do 2 maximal strength sessions (Monday and Thursday) with the first session having a more lower body emphasis and the second having a more upper body emphasis.  However they squat in both sessions.
The power session is on Tuesday.  I will go into more detail on how I do a power session for Tennis players in another blog.  For now just appreciate that they combine a moderately heavy explosive lift (such as a high pull) with a body weight jump or medicine ball throw.  They are not fatigued while doing these supersets.  Now again you could question why it follows the day after a maximal strength session- it should be Wednesday right, like the Olympic wieightlifters?  This would surely give them more recovery?  Or at least do it on Monday before you do the Maximal strength session?? Well, again it goes back to what I am trying to achieve.  I wanted to create neural overload in the first two days (Monday and Tuesday) and make sure I created metabolic overload on Friday and Saturday.  I wanted to have rest days on the Wednesday and Sunday to recover from this BUT I was content to do the power session with a little bit of fatigue because I really wanted to make the maximal strength session my priority and do this when they are fresh.  I was happy for the power session to be in the presence of a little bit of fatigue, knowing that the weights would be a bit lighter.  I also felt the previous day's heavy lift could potentiate the following day's explosive lifts.
The Saturday hypertrophy session was a weight training session but without any maximal strength (primary/secondary lifts) or explosive power lifts.  If you read my blog on Exercise Selection you will see this session is pretty much just muscle conditioning (just assistive and auxillary movements).  Because it can be a big ask to expect the athletes to come in on a Saturday for a half day I like them to look forward to this session because it is what I call a vanity session.  They do plenty of functional single joint exercises but there's also room for them to pick a few exercises for their arms and work the guns!!!  By including this session this means they are doing 4 sessions in the weights room during this training week which I feel helps to ensure there is a good focus on getting stronger in the early part of the training block.
Well that pretty much sums up the overview of a typical training week at the start of the pre-season.  In the next instalment I will look at the training week for one of the final weeks of the pre-season where conditioning is the focus.
Below is a quick video we made to highlight some of the work the guys have been doing.  Hope you like it.
https://athleticperformanceacademy.co.uk/wp-content/uploads/2015/05/APA-Logo1-300x156.jpg
0
0
darren.drake
https://athleticperformanceacademy.co.uk/wp-content/uploads/2015/05/APA-Logo1-300x156.jpg
darren.drake
2013-12-29 12:49:21
2013-12-29 12:49:21
Gosling Pro-Team Pre-Season 2013