With the initiation of a third lock down in the UK we thought it would be a great idea to engage our readers in some motivating posts to help keep you motivated.  We welcome back APA coach Konrad McKenzie with a weekly guest post.
Hi guys,
Today I wanted to talk about one person's friend and another person's enemy. The calf. The time where it gets to summer and you realise neglecting your calves all winter makes itself apparent in shorts. But, did you know that the calf plays a pivotal role in physical performance? I'm here to explain why.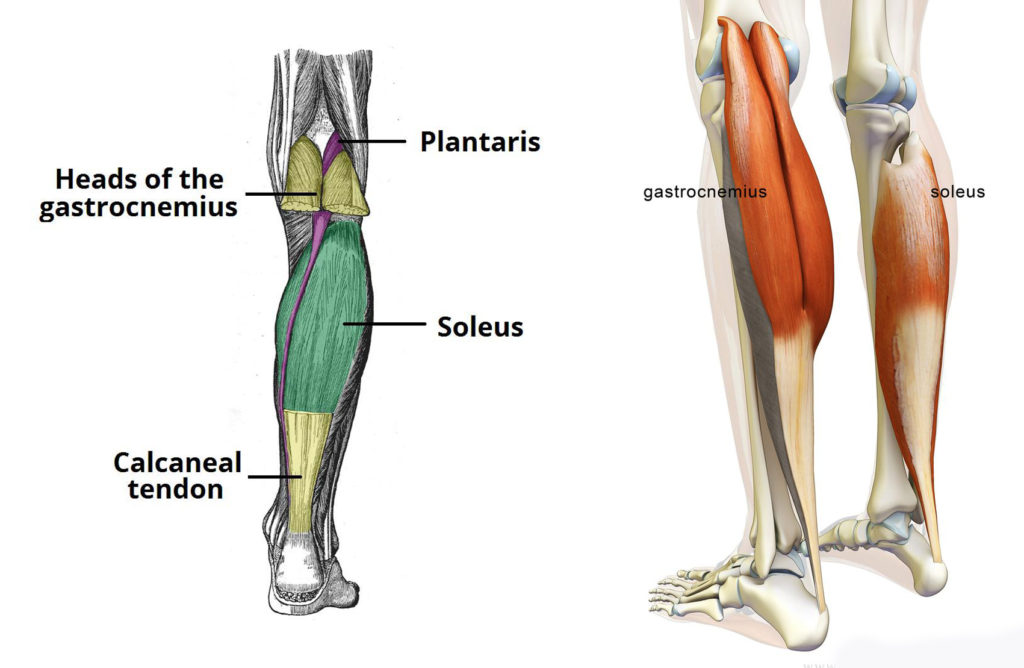 At APA we have been having some great discussions around the calves and I am excited to share some of this information with you. Before we dive into training the calf, I wanted to briefly talk about its anatomy, as it will allow the reader to understand what role it plays in sprinting. The two muscles that I want to focus on are the Gastrocnemius and the Soleus. Both muscles insert in to the Calcaneus via the Achilles tendon however what is interesting to highlight that the Soleus (mono-articular), unlike the Gastrocnemius (bi-articular), does not cross the knee joint.
The Soleus explored further
Whereas the gastrocnemius plays more of a propulsive role the Soleus (coming from the latin word "Solea") plays an important role in stability during running.
The Soleus will work hard to keep the tibia over the Calcaneus to prevent you from falling forwards, during this time forces up to eight times bodyweight can be tolerated. The Soleus is predominately made up of Type 1 Slow twitch fibres.
Due to the higher proportion of type one fibres the Soleus is known as the "Workhorse" due to its high endurance capability and high importance in stabilisation.
The Gastrocnemius explored further
Whereas the Soleus plays more of a supportive role in Explosive activity the Gastrocnemius are able to provide a significant source of power in propulsion due to the higher proportion of type two fibres.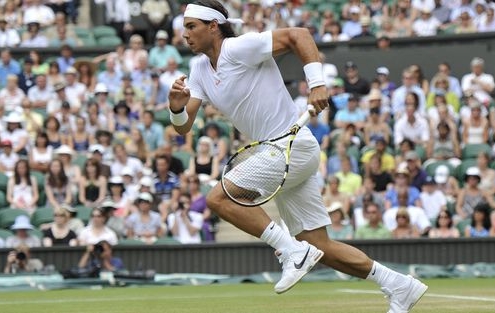 "Our simulation reveals that the ankle plantarflexors are the primary contributors to both propulsion and support of the body mass center during late stance" – (Hamner et al, 2010)
The Achilles tendon explored further
Also known as the biological springs, tendons play a vital role in assisting muscle work by storing energy known as elastic strain energy. This allows the human movement system to go beyond its intrinsic muscle properties, once this energy is released. As a result this amplifies power output. It is important to note that "Amplification" does not necessarily mean adding energy to the system but rather its rapid release.
I have always been fascinated by the "spring" in the Masai warrior, a real display if athleticism, the reader is encouraged to have a look at this on YouTube.
What role does the high strength & stiffness in the calf complex in injury prevention?
"Strengthen your calves, save your hips"
With the lockdown upon us and many more people participating in running based activity it is useful to incorporate some exercises to help keep you robust. During running the Soleus works eccentrically to slow the forward movement of the shin, with the aim of reducing knee load. Additionally, having strong calves will help you move with biomechanical efficiency preventing problems further up the body particularly in the hip region.
Give this a try
Rather than perpetually stretching your calf muscles, have you ever thought they might be weak?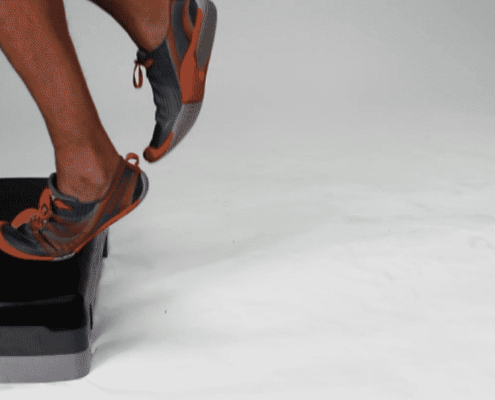 If you haven't got access to fancy force plate testing systems, try finding a bench or a step. Perform a straight legged, single leg calf raise till voluntary failure, how many repetitions did you get? Does your technique begin to breakdown before 20-25 repetitions? Then it may be time to add some calf strengthening to your routines.
OK my Calves are weak what can I do about it?
Bodyweight to loaded progressions
Aim for 2-3 sessions a week
Aim for 3 sets of 12-15 repetitions
Mastered this? Now let's look at loaded progressions?
The muscles of the calf complex are strong and to train them effectively, once they reach a certain level, will require significant amounts of load, to put this into perspective elite athletes will use 20% of their bodyweight of each leg for three sets of 20 repetitions. In some cases athletes will handle loads of 200% of bodyweight in an isometric contraction (3-5 second holds). Additionally, performing exercises, e.g calf raises, with a bent knee will bias the Soleus.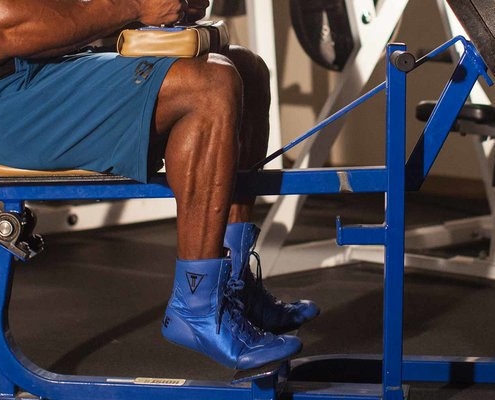 What about plyometrics?
You have performed a knee to wall test and you've determined you have ample range of movement. Does this mean you have bullet proof lower limbs? What if I told you that having too much flexibility without pre-requisite strength and stiffness could create joint instability? Thus risk of injury.
When broken down into its parts. Running is a series of hops from one leg to another, therefore musculo-tendinous units need sufficient "spring" and pre-activation for propulsion and injury prevention.
Once you have determined that your lower limb has suitable levels of strength and endurance it will be a great time to add in some plyometrics into your program. A good approach I like to use is extensive to intensive exercises. E.g pogo jumps progressing to activities that place greater demands on musculo-tendinous structures.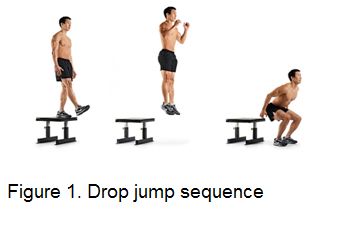 Ultimately, nothing will eliminate the risk of injury entirely unless you stop playing sports entirely, but we can give our bodies the ability to at least tolerate the demands placed on the body by sporting activities. The lower limbs are often overlooked but once we understand a bit about their role and function in sports, their importance becomes apparent.
Although simplified, as the human body is more complicated than we think, I hope this blog has been insightful and given you some things to think about and explore in further detail. I want to leave you with a quote from Albert Einstein
"Make things as simple as possible, but not simpler"
Thanks for reading guys,
Konrad McKenzie
Strength and Conditioning coach.
Liked This Blog?
You might like other blogs on this topic from APA:
APA review of the Middlesex Students S&C conference 2014
The Dubious Rise of the Corrective Exercise "Pseudo-Physio" Posing as a Trainer- My thoughts
as well as two recommended articles:
This article on weak Glutes during Squatting
And this one on Exercise Modifications 
Do you feel that this would be a perfect time to work on the weak links that you have been avoiding? The things that you know you should be doing that you keep putting off? Would you like us to help you with movement screening and an injury prevention program? Then click on the link below and let us help you!
? TRAIN WITH APA ?
Follow me on instagram @konrad_mcken
Follow Daz on instagram @apacoachdaz
Remember:
If you're not subscribed yet, click

 

here to get free email updates, so we can stay in touch.
Share this post using the buttons on the top and bottom of the post. As one of this blog's first readers, I'm not just hoping you'll tell your friends about it. I'm counting on it.
Leave a comment, telling me where you're struggling and how I can help
https://athleticperformanceacademy.co.uk/wp-content/uploads/2021/01/Nadal-Sprint.jpeg
313
500
dazdrake
https://athleticperformanceacademy.co.uk/wp-content/uploads/2015/05/APA-Logo1-300x156.jpg
dazdrake
2021-01-29 17:52:09
2021-01-29 17:52:09
The Lower Limb and Why It Should Be Important to You