Today's blog comes from APA coach Konrad McKenzie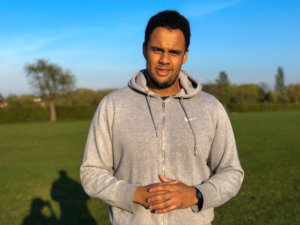 Hi Everyone,
Today I wanted to review a paper by some great lecturers at Leeds Beckett University, who consistently produce practical research around the area of strength and conditioning and in particular youth athlete development.  I am going to split this topic into two parts, Part 1 will look at the role of feedback and getting the most out of our young athletes. Part2, will discuss the types of feedback. Part 2 will be out next week.
Today's article title is "Show me, tell me, and encourage me: The effect of different types of feedback on resistance training performance".
This paper mentions the importance of high quality resistance training sessions in promoting positive adaptations for sports performance. However, for these sessions to be of a good quality athletes will need to express high levels of kinematic outputs, for example in power and velocity (Pareja‐Blanco et al, 2017). Fatigue, low levels of motivation and external factors could reduce intent subsequently reducing performance outcomes. Those who work with youth can attest that a significant part of the program is keeping the athlete engaged and motivated to deliver the best possible outcomes. This is not always easy but delivery is our bread and butter, something which I am constantly learning.
Is there a significant difference between feedback methods?
The article compared four different feedback mechanisms, these included no feedback, verbal, encouragement and kinematic feedback on back squat performance in semi- professional rugby union players. The paper was interesting and has speculated that high levels of verbal encouragement and especially, kinematic feedback improved acute physical performance in speed of the movement particularly with players who display low levels of conscientiousness. A good example of kinematic feedback would be devices that measure barbell velocity during certain lifts.
Studies in youth?
The paper then, made me explore this further in the area of youth athletic development. I found another paper by the same authors discussing how visual feedback improves physical performances, motivation, competitive and perceived workload in adolescent male Rugby union players. There were significant differences in Barbell velocity between feedback and non-feedback control groups. This particular cohort responded well to kinematic visual feedback. Now, if we are all interested in how to get the most out of our young athletes these results are interesting, especially as the gym is not every athlete's favourite place to be (believe me).
How do we get the most of our young athletes?
It may seem obvious that verbal encouragement and visual feedback provide superior results, when improving sports related tasks, but a question that has always been at the forefront of my mind is how do we get the most of our young athletes? I want to share my thoughts with you:
Energy
An old mentor of mine took pride in delivering his sessions with energy, I will never forget the intensity of those sessions. Delivering the sessions with passion, enthusiasm and flair makes even the mundane tasks exciting. Not only is it delivering with energy it is also getting the athletes on your level by first matching their energy and taking them to your desired destination (something he always told me). A good example of this could be bringing your athletes energy up when they seem a bit flat or bringing it down, when they seem a little too excitable. This a skill that takes time to develop but I believe it's a skill worth practicing especially with the session you are trying to deliver. An example of this, may be high energy consistent verbal encouragement for a hard fitness conditioning session vs a grounded energy for more technical tasks that require higher levels of skill execution.
Feedback
I believe that type and timing of feedback is vital for youth athletic development and the types of feedback will be discussed further in part two. I previously alluded to 'specific feedback' in building self-efficacy in youth, what did they do well? In this section I wanted to talk about timing of feedback concurrent vs terminal, or in simpler terms, feedback during or after the task. Dr Mike young does a great job in giving his thoughts on the timing of feedback, particularly in relation to the complexity of the task. He suggests that "concurrent" feedback is best reserved for tasks that are simpler to execute, and "terminal" feedback for more complex activities, to prevent worsening the movement or paralysis by analysis. I know my former self would try to correct everything all at once but this isn't always favourable practice. With this in mind, excellent coaches will achieve desired outcomes with a constraints based approach and concise instruction.

Competition
A question I always ask myself is 'How do we go about creating competition within our environments where young athletes display high levels of intent?' and a further question is how do we get our athletes to display high levels of intent without digressing to far from the target task?'. This is always a fun topic to discuss as we try to strike the balance between stimulating competitions without losing sight of the main session focus. Athletes love to compete, it's in their nature, why would we want to tame that? For me now, it's finding tasks that we can measure and compare, creating games that challenge different qualities and making sure our language and the way we sell these activities to the players, always links back to our main session focus and their sport. For example, using the 'acceleration noughts and crosses' games in Tennis to reinforce appropriate levels of projection and drive enabling players to get to the ball quicker. So, with that game we get high levels of intent and relevance to the focus of the session, and their sport with the way it is fed back to the athlete.
Want a FREE Fun Games For Kids Ebook?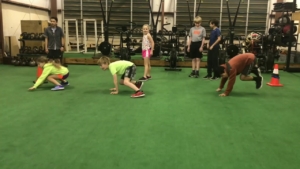 Final thoughts
I think we all attest that the longer we are in the area of youth physical development, we understand that the delivery of the program is a key component to its success. A great program will undoubtedly fail if it's delivery is poor. At university, back then, Sports science/Strength and conditioning was focused around the granularity of programming rather than the art of coaching, which is primary but what if that individual is not putting in their true efforts, or they are lacking motivation? How then do we go about creating the desire to perform in that individual? These are just a few of my thoughts around this area would love to hear yours.
Show me, tell me, encourage me!
Thanks for reading guys,
Konrad McKenzie
Strength and Conditioning coach.
Follow Konrad: @konrad_mcken
Follow Daz: @apacoachdaz
References
Pareja‐Blanco F, Rodríguez‐Rosell D, Sánchez‐Medina L, Sanchis‐Moysi J, Dorado C, Mora‐Custodio R, Yáñez‐García J, Morales‐Alamo D, Pérez‐Suárez I, and Calbet J. Effects of velocity loss during resistance training on athletic performance, strength gains and muscle adaptations. Scand J Med Sci Sports 27: 724-735, 2017.
Weakley, J and Wilson, K and Till, K and Banyard, H and Dyson, J and Phibbs, P and Read, D and Jones, B (2018) Show me, Tell me, Encourage me: The Effect of Different Forms of Feedback on Resistance Training Performance. Journal of Strength and Conditioning Research. ISSN 1064-8011 DOI: https://doi.org/10.1519/JSC.0000000000002887
Weakley, J., Wilson, K., Till, K., Read, D., Darrall-Jones, J., Roe, G., Phibbs, P. and Jones, B., 2019. Visual Feedback Attenuates Mean Concentric Barbell Velocity Loss and Improves Motivation, Competitiveness, and Perceived Workload in Male Adolescent Athletes. Journal of Strength and Conditioning Research, 33(9), pp.2420-2425.
Remember:
If you're not subscribed yet, click

 

here to get free email updates, so we can stay in touch.
Share this post using the buttons on the top and bottom of the post. As one of this blog's first readers, I'm not just hoping you'll tell your friends about it. I'm counting on it.
Leave a comment, telling me where you're struggling and how I can help
https://athleticperformanceacademy.co.uk/wp-content/uploads/2020/06/coach-feedback.jpg
341
512
dazdrake
https://athleticperformanceacademy.co.uk/wp-content/uploads/2015/05/APA-Logo1-300x156.jpg
dazdrake
2020-06-28 13:43:16
2020-06-28 13:43:16
Show me, tell me, and encourage me: The effect of different types of feedback on resistance training performance