Yes that's right- I'm giving a year's worth of training away for FREE.  I thought I would give my regular blog readers a treat and record some of the programmes to video we have been successfully using with our Adult Group Fitness training session on a Tuesday night.
Background on APA Training Philosophy
Want to have more success in sport?
At APA we believe that the best way to improve faster and win more is to get fit for your sport.
Our 12 weeks to Peak Training Programmes are designed to maximise your athletic potential and get you in peak physical condition.  We get you fitter, faster and stronger so you can excel in sport and in life!
What can you expect?
Train like the pros with a fitness test and state of the art exercise prescription.  APA programmes integrate functional training, core strengthening and athletic conditioning so you can reach your peak in 12 weeks.  A typical Peak Performance programme will consist of:
Weeks 1-4: Hypertrophy
Weeks 5-8: Strength
Weeks 9-12: Power
The above elements make up the Performance Phase and would be suitable for someone who has significant training experience and would complete this in their off-season.
Where athletes have limited training experience or need to achieve mobility/weight loss goals first they will need to complete our Foundation Phase from the beginning: Here they will do the mobility and body weight strength programme before doing the muscular endurance strength programme.
Don't play Sport?
Don't worry.  Even if you don't have any sporting goals now, we recognise that everyone has something they want to achieve and we believe our Peak Performance Training programmes can help everyone achieve their goals.  We just need to find out what yours are!!
The Annual Plan:
For someone with limited training experience we would typically build up their training over 24 weeks so they have more time to adapt to the increases in intensity.  This is typically what most of the Adult Group class members will do.
If you haven't done anything for a long time, or are very de-conditioned you will need to do the mobility programme and body weight strength programme first.
Follow the progression below completing 4 weeks at each block in Cycle 1 until you have done 12 weeks.  Then have an active rest week (1 week only!) before moving on to Cycle 2.  Repeat this until you have completed all four Cycles.
The idea is that by the time you complete 6 months (end of Cycle 2) you will have achieved your first peak performance- you will be in peak physical condition.  But just like a climber who reaches the top of Everest they need to come back down to rest before they can give it another go.  Hopefully the second time you will be better for the experience and surpass your previous peak condition- lifting more weight, being more explosive etc.
Cycle
Length
Block 1 
Block 2 
Block 3
1
1-12 weeks
MSE
Hypertrophy
Strength
2
14-25 weeks
Hypertrophy
Strength
Power
3
27-38 weeks
MSE
Hypertrophy
Strength
4
40-51 weeks
Hypertrophy
Strength
Power
1-4
Rest week at end of each cycle focusing on Robustness
The Weekly Schedule:
To get the best results we recommend doing at least 2 x sessions per week separated by at least 48 hours.  The programmes below are written on this basis, with 8 workouts over 4 weeks.
Rest periods between sets vary according to the sets and reps carried out.  They are typically 30-seconds for MSE and body weight strength and increase to 60-seconds for hypertrophy and 90-seconds for strength and power exercises.
In the hour we aim to cover the entire spectrum of fitness demanded by sport- power, strength, muscular endurance, and cardiovascular endurance.
The Videos:
All the videos are on the APA Youtube Channel:
https://www.youtube.com/user/APAcoacheschannel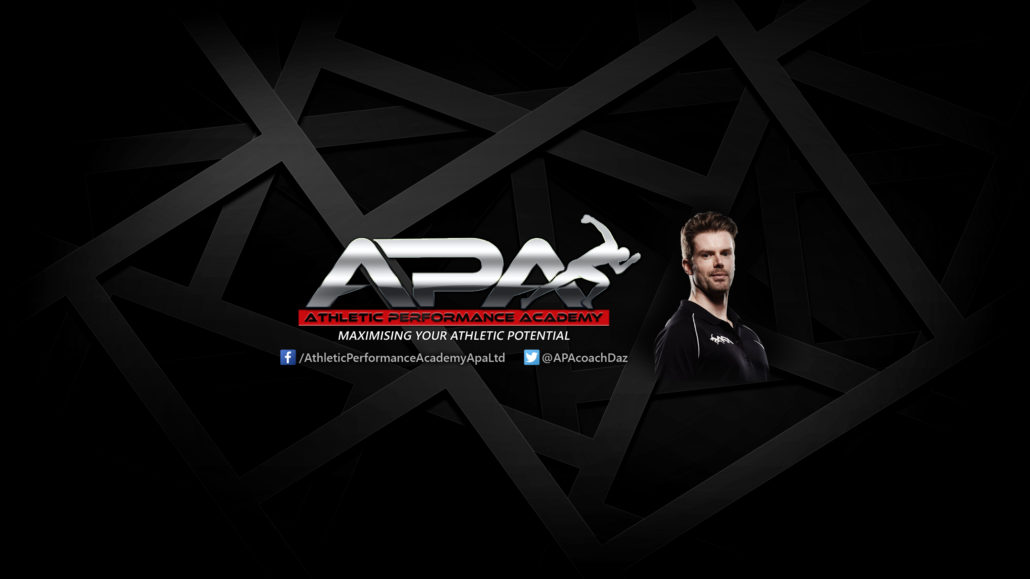 Foundation Phase:
Video 1:
Foam Rolling
Video 2:
Foundation Programme: Mobility (De-conditioned athlete)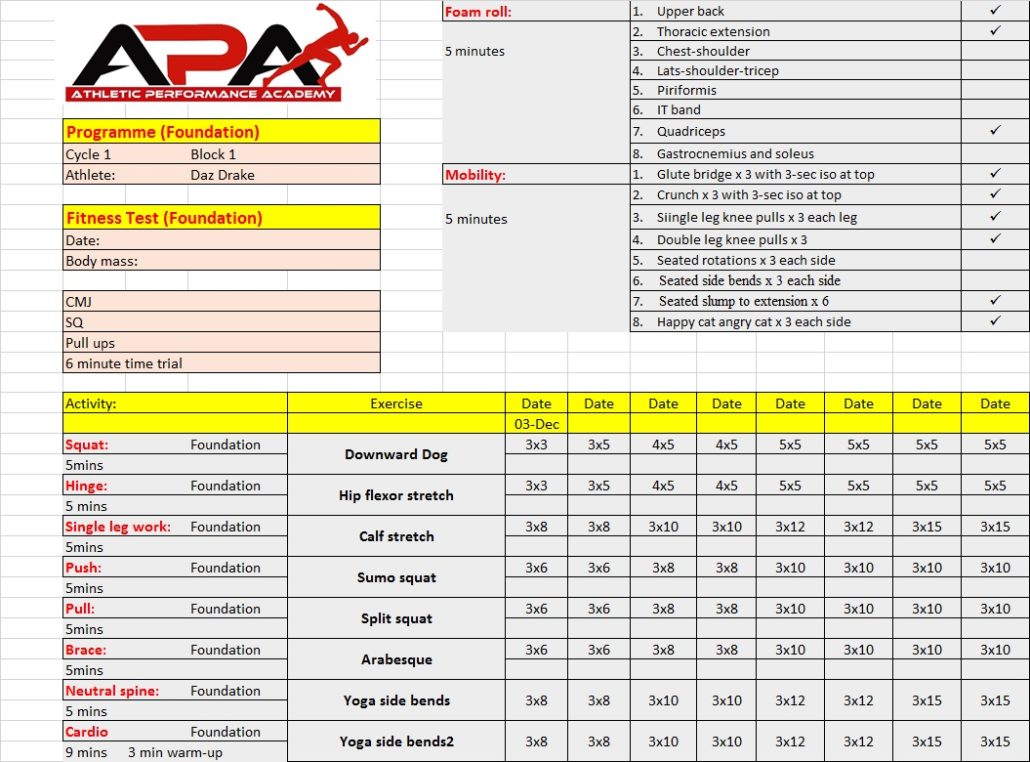 Video 3:
Foundation Programme: Body weight Strength (De-conditioned athlete)
Video 4:
Muscular Strength Endurance (MSE) 'Robustness' Programme (Start here for most weekend warriors!)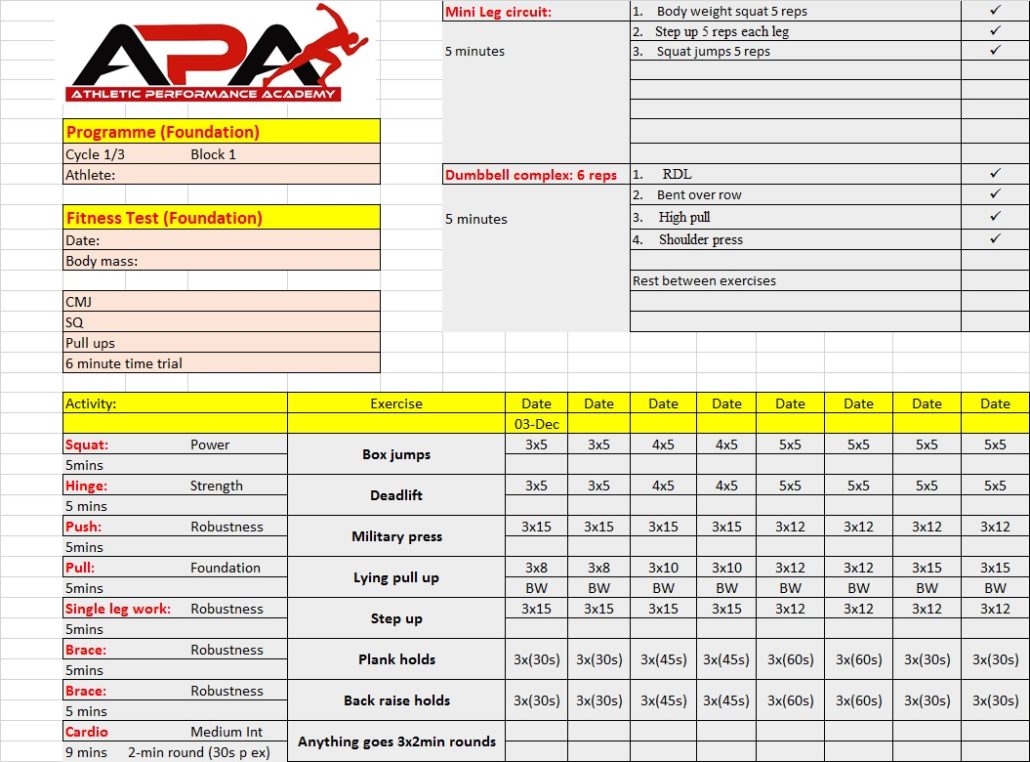 Performance Phase:
Video 5:
Hypertrophy Programme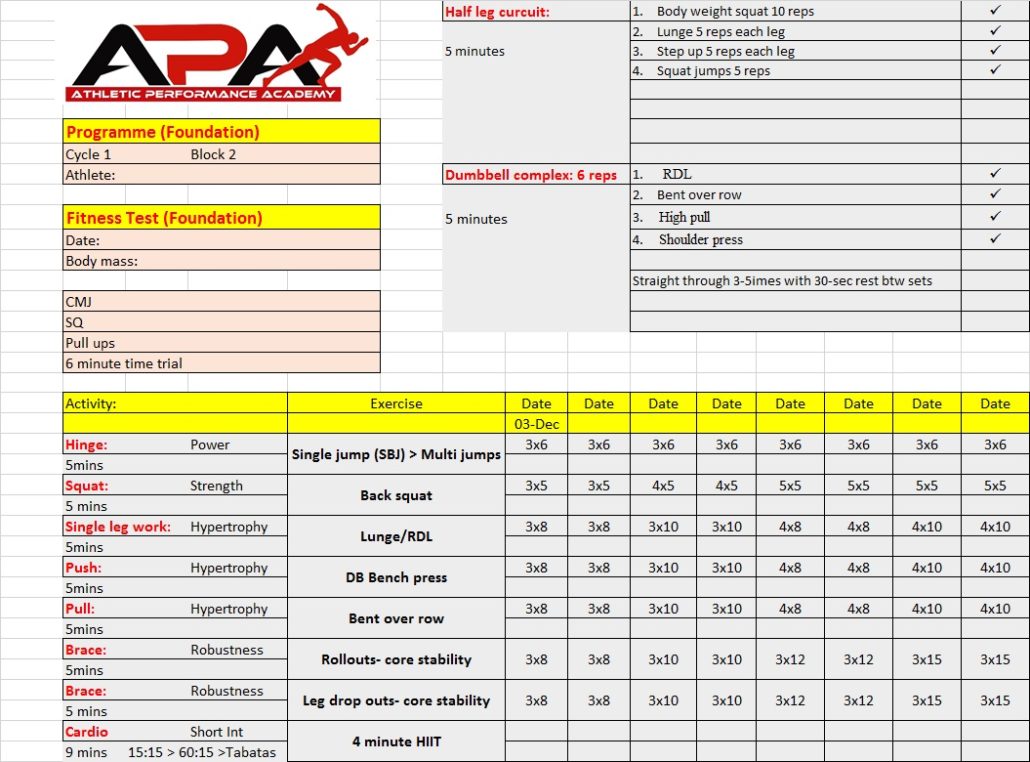 Video 6:
Maximal Strength Programme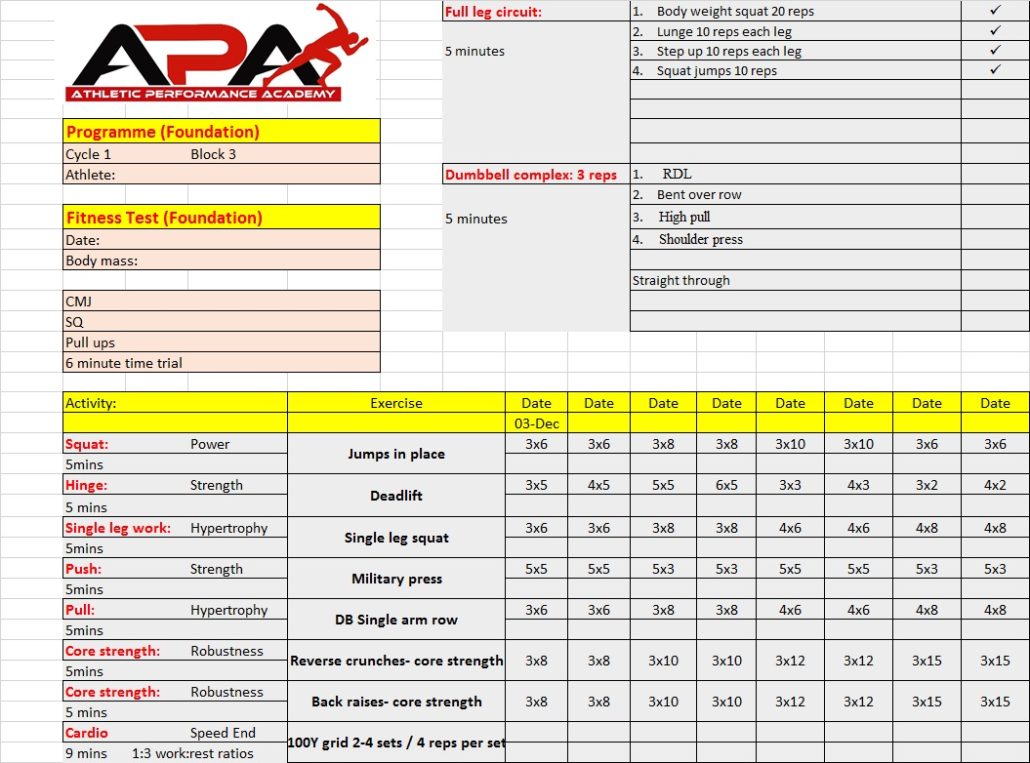 Video 7:
Maximal Power Programme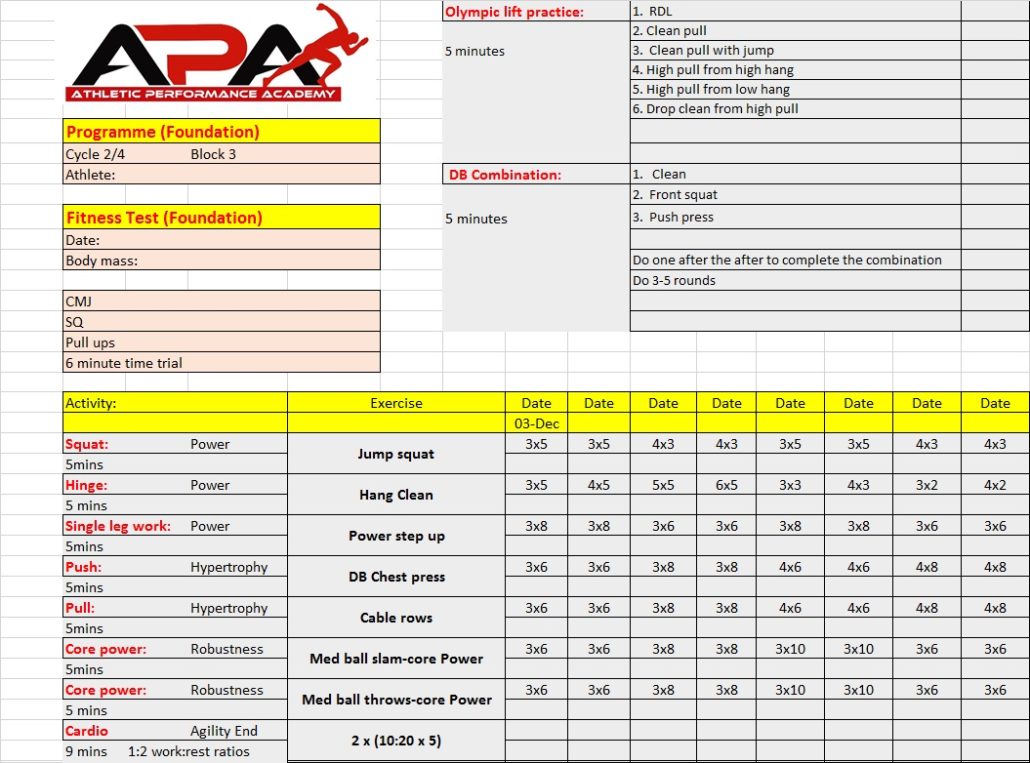 More Details:
So there it is- a full year's training programme ready for you to get started with.
Feel free to drop me a comment for more details on the cardio component.  The serious and committed athletes out there will get in touch.
If you would like to join our Adult Group Fitness class on a Tuesday night then please contact me at: daz@apacoaching.co.uk
Alternatively we can also support you remotely with our online support packages so please feel free to contact me if you are interested in that too.
https://athleticperformanceacademy.co.uk/wp-content/uploads/2016/07/YoutubeChannelArt-1.jpg
1440
2560
dazdrake
https://athleticperformanceacademy.co.uk/wp-content/uploads/2015/05/APA-Logo1-300x156.jpg
dazdrake
2016-07-14 16:44:21
2018-05-27 20:12:41
Get a Years Worth of Training Programmes FREE right HERE!