If you're like me you love to play sport, the competitive challenge of testing your skills and physical attributes against a worthy opponent. But playing sport can take its toll on the body.  Chances are you've probably had some form of niggling injury to your knees or back, or maybe worse still you've had to stop all together and spend a fortune on physiotherapy.
Well it doesn't have to be that way.  Many sports related injuries are preventable.  The trouble is most people think that because they have a reasonable amount of general fitness, they're fit to play sport.
General Fitness
General fitness is also known as Health related Fitness and incorporates five key aspects- cardiovascular endurance, muscular endurance, muscular strength, flexibility and body composition (the proportion of muscle and fat you have).  To be truly fit- either for everyday living or for sports performance- requires that all these elements are worked on and are either maintained at a healthy level or are continually improved beyond that level.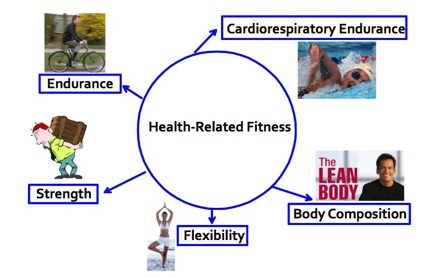 Sport Specific Fitness
Being fit for sport means being able to meet the physical demands of that sport.  This can be thought of sport specific fitness.
To be fit for sport involves additional sport specific skills and physical attributes such as speed and power but these should be developed on top of a broad base of general fitness.
It is true that these sport specific attributes will help you to play harder and last longer.  You will be more consistent and make better decisions under fatigue.
A lot of people who want to improve their sports performance for these reasons believe that they will get all the speed and power work they will need by playing the sport.  Firstly- this is a myth.  There is no single sport that can fully develop one quality.  Even a 100m sprint requires multiple types of speed.  Instead check out these top tips to keep you on the right path.
5 Top Tips for getting Fit for Sport
Top Tip 1- Do a fitness test
Seek out a sports performance specialist such as a UKSCA accredited strength & conditioning coach who can assess your current levels in sport specific fitness.
Top Tip 2- Do Strength training
Let's not forget that the demands from most sports place very high stresses on the body.  Most people are not well conditioned to cope with these demands, but they can be handled better by doing appropriate strength training.
Top Tip 3- Do speed training
To fully develop speed and power you also need to train these attributes in isolation when you're fresh to maximise their capacities.  Playing sport isn't enough.
Top Tip 4- Work on addressing your imbalances
To develop sport specific fitness without maintaining general fitness across all these parameters can lead to physical imbalances and even injuries.  Most sports are one sided or over work certain muscles from repetitive use.  So it is important to do work outside of the sport to correct these imbalances by following an injury prevention programme.
Top Tip 5- Plan your workouts
Working on general and sport specific fitness doesn't mean you need to do seven different workouts to develop all the fitness attributes.  Many fitness activities work one or more of these attributes at the same time.  You just need a qualified coach to help you put the training programme together.
In summary
Sport places high demands on your body.  Many of the injuries incurred are preventable.  Make sure you invest in your fitness and get fit to play sport!
If you would like to be trained by a team who work with professional athletes which will assist you improve faster and win more then contact APA Director Daz Drake at: daz@apacoaching.co.uk   www.athleticperformanceacademy.co.uk
https://athleticperformanceacademy.co.uk/wp-content/uploads/2015/04/bigstock-Legs-of-two-soccer-players-vie-62449595.jpg
593
900
dazdrake
https://athleticperformanceacademy.co.uk/wp-content/uploads/2015/05/APA-Logo1-300x156.jpg
dazdrake
2016-01-28 15:13:41
2017-01-12 09:07:40
Get Fit to Play Sport or Play Sport to Get Fit?