This blog is a review of the Pacey Performance Podcast Episode 385 – Paul Comfort
The majority of the episode focuses on isometric training.   Due to the amount and quality of information the full podcast review will be split up into two parts.  This is a Part 2 of 2, which will focus on practical applications of isometric training and eccentric training.   Click here to read Part 1.

Paul Comfort
Paul Comfort is a Reader in Strength and Conditioning and programme leader for the MSc Strength and Conditioning at the University of Salford, and is this week's guest on the Pacey Performance Podcast. He's here to talk to Rob about isometric testing and training, and why there has been a recent resurgence in its popularity.
🔊 Listen to the full episode here
Isometric Testing & dynamic performance
"Just try to make this transition over into the isometric training side of things. And I probably should have mentioned this at the start actually, what are the links to dynamic performance when doing isometric testing? How is that link made?"
"So if you look at something like the isometric mid thigh pull or the isometric squat, there's a huge number of studies out there that show strong correlations between your ability to produce very high forces, so the peak force or peak force relative to mass, and performance in other dynamic strength tests or tasks. So 1RM squat, 1RM deadlift, snatch, power snatch, clean, power clean performance, etc. And in weightlifters, they're almost perfect correlations, which isn't surprising because they're so used to getting into those positions for the isometric mid thigh pull.  But even if we look at how they relate to things like sprint performance, jump performance, there are still strong correlations there. Now correlation doesn't mean cause and effect just because there's a strong correlation. It doesn't mean if we increase peak force in an isometric mid thigh pull, you will increase your 1RM performance or your sprint performance.
However, there are a few studies out there that do indicate that as your peak force increases, your ability to accelerate increases. Or as force at a specific time point increases, your ability to accelerate during a sprint or a jump, etc increases. Now that makes sense if we go back to your basic biomechanics, because we know that it's your relative net impulse, with impulse being force x time and relative meaning dividing it by your body mass. As long as your body mass stays the same, if you can increase the amount of force you produce in the same given time point, your ability to accelerate will have increased.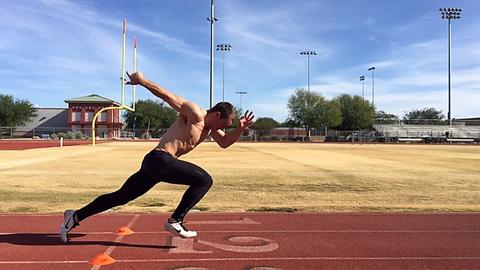 Now when we evaluate it in a isometric task, then we've got to hope that the athlete can actually use that force and still produce a higher force in the same time frame when they perform their dynamic task. But if you've got the right balance between what you're doing in the weight room, and their skill specific training, the sprint drills you might do, the jump training, the bounding and plyometrics. If you've got the right balance there, you should get that transference. No amount of work in the weight room will immediately transfer to a really highly skilled task. But even just on observation, if you get somebody much stronger and their peak force goes up and then their force at 150 milliseconds goes up, their ability to accelerate when they're sprinting, jumping, does start to improve.
There is sometimes a lag time. So the problem with some of the research is that you do a four week or a six week block of training. You get to the end of that block and you retest them [without doing a deload first]. Well, actually, if you've used progressive overload, which we should all be doing, you've had a progressive increase in possibly load or intensity, definitely in volume. And therefore we've added fatigue across that few weeks of training, whether it's four or six weeks. And you look at some studies, there's not an unloading week, there's not a deload week, but that's what we do when we train people normally. You have an accumulation of fatigue during that three, four, five, six week buildup. And then we have a week where we back off, we deload, we taper, whatever term you want to use for it, then retest them when fatigue is dissipated.

And the reason I mention that is if you look at a lot Dr. Andy Fries early work on overreaching, over training, they really battered people. Some of their training programmes, you look at them and think how the hell did people get through that? And you find that peak force or their maximum strength is pretty stable. It doesn't decrease dramatically. You can push people really hard and maximum force production doesn't go down. But their ability to produce force rapidly decreases. So if we've got a similar approach where we've got a progressive increase in volume and we then test them right at the end of that block, it's not surprising that you're going to see a slight decrease in their ability to produce force rapidly because they're fatigued. So we need that appropriate deload or taper before we retest.
And it doesn't always happen within the research. Partly due to time constraints, partly due to them getting the athletes to actually take a bit of time off. And sometimes because people just don't know any better, which is problematic in itself. So, there is that strong correlation, but it all comes down to your ability to produce force, high forces in a short duration, which is why it's so important to have that. If we do an isometric testing to really try and quantify how much force they can produce in a certain time point, because that will indicate that they can generate a greater impulse and therefore if they can apply that greater impulse during sports specific tasks, we will get greater acceleration, whether that's of their mass or whether that's of an object they're throwing or whatever it might be."
Isometric Training
"Transitioning to the isometric training side. So as you've said right at the start, this is a complementary method of training to your traditional strength training, but just taking it back again, what are the benefits of isometric training and what areas does it plug that traditional strength training maybe doesn't?"
"Well, I think one of the things that's really useful is it's minimally fatiguing. So because you are actually not moving through a large range of motion and you can easily control the duration of each isometric muscle action, you can minimize fatigue. It doesn't have the eccentric component in there, which we get with traditional strength training, which while really beneficial, actually, if you are using an unfamiliar task may cause muscle damage, may cause DOMS, pain, inhibition and that's one of the concerns with athletes when you introduce a new stimulus is if they come back in a day or two later complaining to the medical staff that they're really sore. Some of them, if they're not used to that type of training, we'll be saying they've pulled the hamstring or they've pulled the groin or whatever.  No, you are just sore because you don't train hard enough.  That's what happens most of the time. It's unlikely they'll have pulled something in a structured weight training programme or resistance training programme if you've been appropriately progressive in nature. So it's not as fatiguing.
And then the other benefit is everyone has sticking points during certain exercises. You start trying to do a squat, a deadlift, if you fail, there's always a specific point you'll fail at, normally somewhere midpoint through the range of motion, depending on where your weakness is. So you can train people in those weak positions and that can help them get through those sticking points.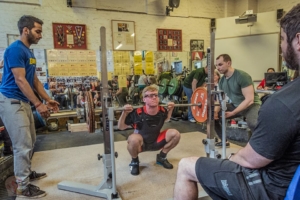 And you can do that without adding a huge amount of extra volume. But as I mentioned earlier, and as you've just restated, it isn't a substitute for your standard resistance training. Otherwise you'd have to train at so many different joint angles to get that transference throughout that full range of motion that you'd end up with all sorts of issues in terms of time.  For example, I've been trying to do an isometric squat. It's taken me an hour to get all these different positions for enough repetitions with enough force while that was really counterproductive because I could have done that just with a few sets of squats doing a dynamic squatting type task.
So, you know, there are some benefits, but you've also got to take a step back and think, what do I really need from this?"
"What does the research say around that transference of specific positions? So if I'm training at a particular angle, what's the transference?"
"Well, a lot of the early research seems to indicate that you're looking at plus or minus 15 degrees from the joint angle you were training at. And that seems to be correct if you are just doing isometric training. Some of the more recent studies that have been published seem to show a slightly greater range, but that is when they're combined with dynamic heavy strength training. So that probably helps with that transference, because you're still doing other training and that's the problem you get sometimes when we've got to do really well controlled studies in very controlled environments so that we know that whatever our intervention is, is what's had the effect.
But then we also have to do those studies where they're more ecologically valid. They are what we would do in an applied environment. So they are what we're going to do with our football team, with our rugby team, with whatever that sport is. And then that's when we seem to find that either what was done in that control lab environment doesn't work or it doesn't work as well; or sometimes, oh my God, this works much better because it's in addition to other types of training. Some of the early studies on isometric training showed an increase in rate force development, but a decrease in jump performance. Well, how does that work? You would assume that if your rate force development increases, your jump performance should increase, but actually they were assessing rate of force development during a single joint isometric task. And then comparing that to jump performance where you've been training at zero velocity for the last six weeks.
So, and your jump height is determined by your velocity at takeoff and you are used to training at zero velocity. So is that really surprising when we think about specificity of training that your jump height decreased? No, it's probably not. But again, look at the studies where it's combined as an addition to your normal training and we tend to get beneficial adaptations. And it's not just about the performance side of things, there's a lot of research showing the benefits for isometric type training. As an analgesic, if you've got tendon pain before training in competition, actually to create adaptations in your tendons to make them stiffer, to increase the amount of collagen, etc. So they're more resilient to stress strain and therefore injury.
However, bear in mind a tendon doesn't know what type of muscle actions are occurring. It's just got stress and strain applied to it.  But the benefit is it's very, very controlled when it's isometric. And if somebody has got a bit of pain, you can ramp that up progressively. Whereas it's not quite the same because you suddenly throw them into a plyometric task."
"In terms of the manipulating the variables when it comes to isometrics and potential recommendations, how can we manipulate isometric to get what we want? And if there's any recommendations out there, that would be great?"
"If you look across the research, it's pretty varied. I don't think there is a true consensus because the studies are set up to get different results. Some are tendon related, some are for performance. If you think about it practically, if you identify where someone's weak point is, that point that they slow down,  unintentionally during an exercise. So if you are going to use an isometric squat to supplement your dynamic squat training, find what that sticking point is. Find the point that they're really having to grind through and you don't need to assess velocity of the movement. That point with a heavy load where they really start struggling, we can all see that. They can tell you that posture. They know it because they thought they were going to fail at that point.
That's the point that their face goes purple as well. So it's really easy to spot. So actually doing some repetitions, not necessarily for a prolonged duration because you still want a really high effort. And again, the problem is if we do a really prolonged duration and a near maximal effort, we will induce fatigue. So you're looking at your three to five second efforts, we know that you should be able to achieve peak isometric force in under two seconds. And from looking at all the forced time data that I've collected with isometric squats and mid thigh pulls, within five seconds, everyone's force production starts to go down. So if you're looking at a three to five second effort near maximum, I personally find that to be one of the most effective ways of getting people to get through sticking points. And we also want to train our athletes to express force rapidly.
So actually doing really prolonged holds may be grate for rehabilitation purposes. And if somebody's had a niggling injury and that's continued, that might be really, really beneficial, but from a performance point of view, doing three to five repetitions, three to five seconds per effort. And if you can assess that with a strain gauge or with a force plate setup, that will give you some additional feedback, but even without that you can tell if they're working hard or not.  Watch an athletes' face, are they holding their breath? Are they gasping for breath when they finished a repetition? Are they shaking during the task? Most people will. So you can see most of that without the strain gauge or without an isometric mid thigh pull. But actually if you've got the force plate to do this type of testing during their training you can also get people really competitive.
So if you and I were training, we can both, if we're sort of a similar stature, we can both get onto a force plate, and do an isometric squat. I do a five second effort. Step away, you do a five second effort and we compete against each other. You're really going to get maximal buy-in and maximum intent then. And you might not need to do it with your whole squad. There may be some athletes you think, right, this will be really useful for them. And again, a good way of sort of judging those joint angles based on where you perceive their weaknesses to be. And that's easy during some of those dynamic strength exercises. You'll really see that."
Eccentric Training
"I'm just conscious that we've talked about isometrics been supplementary and not to miss out eccentric and concentric contractions, which you've mentioned as well. So where does eccentric focus training fit into this and what are the benefits? What we can gain from eccentric training?"
"So with eccentric we can again get really, really high forces being produced. We've got to implement that eccentric load appropriately though. And I'll come to that in a moment. We know that if you've got a high eccentric load, which is greater than the load during a concentric task, that we can increase fascicle lengths. And if we can increase muscle fascicle lengths, we increase the potential for those fascicles to shorten at higher velocity. So I'll try not to go off topic here, but if you look at the force velocity relationship, the majority of people get that wrong and I'll hold my hands up. I've probably made that worse with some figures I've put in publications, textbooks, etc, but the force velocity relationship comes from fascicle shortening velocity and individual fascicles and the amount of force they can generate.
It's not movement velocity, which is how most people interpret it. So it's how quickly your fascicle can shorten. Now if your fascicles shorten more rapidly because they're longer and you've got the optimal pennation angle for that, you will undoubtedly get a higher movement velocity from those individuals.  Eccentric training increases fascicle length because you are getting the muscles being stretched while it's producing a high force. And that's the key. You need a high force, so you can do tempo type eccentric training. We can get people lowering down over a prolonged period of time. That increases time under tension that may create a hypertrophic stimulus where we get more muscle mass. But it's not truly eccentric training.  You're moving at a really low velocity. 
[Personal communication with Paul: "it's not truly eccentric training because as was stated earlier, a high eccentric load has to be one which is greater than the load during a concentric task, in order to increase increase fascicle lengths.  tempo training prescriptions are usually around 80-85% 1RM for 3-5 seconds lower and you the lift it back up concentrically.  This is a good introduction to the controlled tempos but the load is insufficient to overload the eccentric component.] 
The goal of eccentrics is to get a higher force at a higher velocity but how you train that in the weight room is focus on the higher focus component. Imagine trying to squat down quickly with a high load.  That doesn't happen if you are squatting and you put extra weight on the bar. If you want to move at high velocity, you relax and gravity accelerates you down. You can't move any quicker than just relaxing and letting gravity push you to the floor. With safety bars and stuff like that in your power rack, obviously you don't want to get squashed or crush your athlete.  So the key thing is if you are trying to apply really high force or using a high load, the eccentrics in that situation with multi-joint movements need to be slow and controlled.
Personally, if I'm doing it and I'm trying to use an eccentric overload, I'll do a front squat because it's so easy to drop the bar rather than a back squat. You've got to be good at jumping out from under that bar if you start to move too fast or have it set up inside a rack with the safety bar set just around your minimum squat, your maximum squat depth, the minimum height you're going to achieve.
They're really, really beneficial, but again, as an addition to your normal training. Now, if you've got no equipment and I'll just stick with a squat as an example, because it's probably the easiest one. If we want to create eccentric overload, go above your 1RM, set those safety pins. Go to about your maximum squat depth and do a very slow controlled squat. Probably going to take three to five seconds to get down there. If you think about when you're going for a 1RM anyway, you squat down slowly. You don't go down rapidly, because you're going to get squashed. So you go down slow. If you've gone 10% above that (concentric 1RM), you'll go down slower. The only problem is then you need a couple of strong people to lift that bar back up or you need to unload it and then lift it backup.
So it's not always practical. There are some commercial devices on the market where you can do that and it'll winch it back for you. But most people won't have those. The other option is to use weight releasers, the j hooks that hang on the end of the bar, you can put weight on it. You get to the floor, they've got an angle on them, so they'll actually flip off when you get to the bottom. Just make sure you set the height of those weight releasers, five to eight centimetres longer than you need so that when you get to the bottom of your squat or whatever lift you are doing, that they do release and make sure you're symmetrical when you squat down because if one comes off one side and not the other, you're in a whole world of trouble there.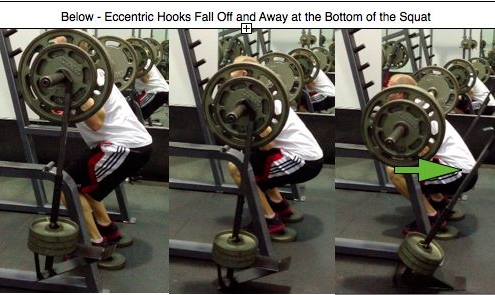 So practice it with the warm-up weights and slowly build up. And you've got a whole range of things you can do with that. You can do it to almost try and potentiate or enhance your propulsive phase. So you could put 80% of your 1RM on the bar, 30% of your concentric or your traditional 1RM on the weight releases, you've got 110% 1RM. Squat down, then release, and then you come up as explosively or fast as you can. You can use it for hypertrophy as well. So we get that increased time under tension on the way down and we can use it for actually just getting that higher eccentric stimulus. As long as you squat, you get back to the top and then two people hook the weights back on for you.
The nice thing is for that you can end up doing that as a cluster set. Somebody put the weights on, you then pick the bar back up, step back, squat again. It takes a little bit longer, but actually you do less volume if you're doing that high loads eccentric type training because it does create some muscle damage.
Now the other thing to bear in mind with this is that muscle damage is not a bad thing because it gives you the repeated bout effect. And it's not just from eccentric training. You get that just from a novel stimulus. So if you've been focusing bilateral training, front squat, back squats, deadlifts, and you suddenly throw in a load of split squats, lunges, rear elevated split squats, you'll ache in different places. The next day you'll feel it more in your glutes and you groin, etc, because you're stabilizing.
That's not because it was a much higher load. It might have been a lower load overall. If you work out the total load lifted, it might be a lower volume. But it's a novel stimulus. So when you introduce a novel stimulus, whether eccentric or whether they're just going from bilateral dominant to unilateral, ideally build it in progressively because you will get a little bit sore, but that initial bout of, especially if it's eccentric training, protects you against some of that muscle damage and the soreness and the inhibition during the subsequent bout. So your first bout, do a really low volume. If you're doing it with squats, maybe do it on your first repetition of a squat or weight releasers. So if you're training at 80% of 1RM, you put that extra 30% on, so you lower 110% your 1RM.
Do do it for one rep. Your first rep of a set and do it on the first rep, maybe the three or four sets. That is likely to give you a protective effect. Next time you can do it within the set. You know, you can cluster your set. If you're doing sets of six, rep one as the weight releases on, then you do two and three normally, rank the bar, put the weight releases back on, do rep four with the weight releases five and six or without you've doubled the volume of eccentric training. So build it up progressively, because the last thing you want is your athletes coming back in telling you how much they're aching the next day, turning around to the coach saying that they're in bits, turning around to the medical staff because they won't want you doing that type of training again, but it can be really beneficial.
And the few studies that are out there that there's one by Mellissa Harden, where she used a control group trained athletes and some very well trained athletes. It was some GB cyclists, and they showed within a four week period substantial improvements in maximum and rapid force production from doing that type of training, using an eccentric leg press. Now there is an issue with that. No one else has access to that eccentric leg press apart from British cycling, but hey it worked. It shows, you know, the theory holds true. There's a couple of studies by Simon Walker, which I think both Rob Newton, Keijo Häkkinen and Gregory Haff were part of that research group at that point, looking at different types of eccentric training in a more applied environment, more ecologically valid. So not just isolated, single joint eccentric training. And again, they've shown big increases in a short duration.
But again with a relatively conservative loading paradigm that they've used and I think that's the key thing is you have to do a small amount because we know it will create some muscle damage. So be conservative with it. A lot of the research, researchers will say, we need to get this stimulus. We need to make sure it has a positive effect, but you know, if you turn around, look at some of the early studies on Nordics where they were doing 50 plus repetitions in a week, or sets of 10. I know after three, my subsequent reps are pretty poor because it feels like everything's going to cramp up. And we now know that those lower volumes are maybe not quite as effective, but you get much better adherence and longer term, they will be more effective.
So you've really got to be conservative with how you apply that eccentric load. There's lots of different ways to do it. But there are some pretty simple and easy to apply options in a normal setting if you haven't got specialist equipment. And the weight releasers you can buy those for probably 200 pounds or if you know anybody that's good with metal work, they can probably make some for you."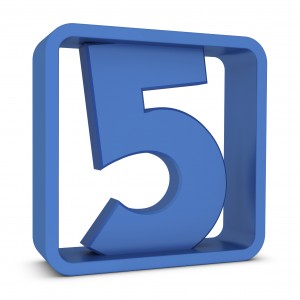 Top 5 Take Away Points:
 Isometric training/testing – use it for maintenance of strength during periods of fixture congestion.
 KPIs for isometrics – Peak Force (relative to body mass)and Rate of Force Development (RFD)
 Validity/Reliability – be aware of different time points used for testing and also the different tests (isometric squat vs IMTP, and 50, 100, 50 ms etc).
 Time period of isometric – for peak force perform 3-5 trials of up to 4-5 seconds and for RFD use a 1-second explosive effort.
 Strain gauges could be a less expensive alternative to force plates, but will be less reliable.  Likewise single joint tests will be more useful than multi-joint isometric assessments.
Want more info on the stuff we have spoken about?
You may also like from PPP:
Episode 380 Alastair McBurnie & Tom Dos'Santos
Episode 381 Alastair McBurnie & Tom Dos'Santos
Episode 380 Alastair McBurnie & Tom Dos'Santos
Episode 372 Jeremy Sheppard & Dana Agar Newman
Episode 217, 51 Derek Evely
Episode 207, 3 Mike Young
Episode 192 Sprint Masterclass
Episode 87 Dan Pfaff
Episode 55 Jonas Dodoo
Episode 15 Carl Valle
Hope you have found this article useful.
Remember:
If you're not subscribed yet, click here to get free email updates, so we can stay in touch.
Share this post using the buttons on the top and bottom of the post. As one of this blog's first readers, I'm not just hoping you'll tell your friends about it. I'm counting on it.
Leave a comment, telling me where you're struggling and how I can help
Since you're here…
…we have a small favor to ask.  APA aim to bring you compelling content from the world of sports science and coaching.  We are devoted to making athletes fitter, faster and stronger so they can excel in sport. Please take a moment to share the articles on social media, engage the authors with questions and comments below, and link to articles when appropriate if you have a blog or participate on forums of related topics. — APA TEAM
https://athleticperformanceacademy.co.uk/wp-content/uploads/2021/08/Pacey-Performance-Podcast.png
225
225
dazdrake
https://athleticperformanceacademy.co.uk/wp-content/uploads/2015/05/APA-Logo1-300x156.jpg
dazdrake
2022-03-22 11:03:06
2023-12-10 12:34:46
Pacey Performance Podcast REVIEW – Episode 385 Paul Comfort – Part 2