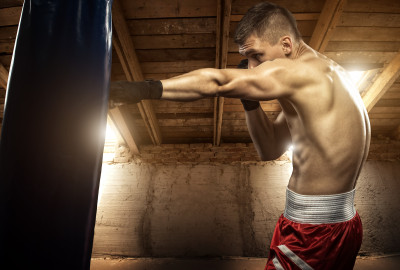 In 8 weeks time I will be doing my first competitive boxing match.
As a professional strength & conditioning coach I spend all my waking hours helping other athletes achieve their goals.  I felt it was time to invest as much in myself and work towards my own goal.
So I'm taking part in the Luton White Collar Boxing April 2nd 2016 to raise money for Cancer Research UK and I'd really appreciate your support.
Donating to my JustGiving page is easy – just follow this link and click Donate:
JustGiving sends your donation straight to Cancer Research UK so it's a quick and safe way to donate.
I thought it would also be interesting to tell you about the training I am doing to get myself in peak physical condition for the fight.

Training for the Big Night
My background
As attributes go I have always thought I was quick without being powerful so I figured it was as good a time as any to live my own Rocky dream.
Since becoming more and more consumed by running a business and a team of staff I have found my number of hours of regular activity have dropped to around one regular 5-a-side football match and 2-3 gym based weights sessions.
Nutritionally I have not been periodising my diet and tending to eat complex carbohydrates and/or sugar at each main meal and most snacks.
As a result I am around 18%-20% body fat and 80kg at 184cm.
Lean Mass versus Fat Mass
It's interesting because if I spare using the pads with some of my athletes who are also around 80kg you have to remember they are around 5-10% body fat.  So they have much more lean mass than me- I'm closer to 20% body fat.  So even though we weigh the same I have twice as much useless fat on my body.  It definitely shows as they pack a bigger punch.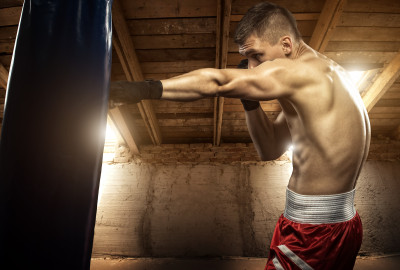 You dropped weight before right??
If you remember in the Autumn of 2012 I was around 16% body fat and got down to 9% following a programme at UP Fitness.  I wrote a blog about it HERE and HERE.  I wanted to learn more about the process having been inspired by the story of the Fitness editor of Men's Fitness who showed it's possible for every day people to achieve cover model physique.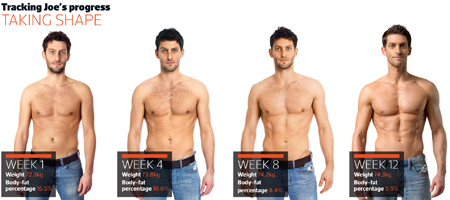 This time I am looking to do it for performance gains.
 My theory is if I lose around 10% body fat or around 8 kg and gain a couple of kilograms of lean mass I will come in at a fight weight of around 74kg.
The Training:
I will keep doing the football and the 3 weights sessions.  I will also add in two boxing sessions- one for general fitness and one for sparring.
Weekly Schedule:
| | | |
| --- | --- | --- |
| Monday | Football | Upper body weights |
| Tuesday | | |
| Wednesday | Lower body weights | General fitness |
| Thursday | | |
| Friday | Total body weights | |
| Saturday | Sparring | |
| Sunday | | |
8-week training phase:
Week 1-2: Strength
Week 3-4: Hypertrophy
Week 5-6: Strength
Week 7-8: Power
Strength is my biggest area of improvement.  I also feel I will need to do some muscle mass hypertrophy work, especially after the first two weeks of very low carbohydrate.
I will start with a strength block.   This is a good opportunity to get started with my primary goal of gaining strength.  I have also found that from experience I cope better with lower volume higher intensity strength work when I am on my lowest intake of carbohydrates.  I can get stuck into this straight away as most of my normal training has prepared me to cope with the loading at the start of the phase.
If I were a novice trainer I would recommend starting with some anatomical adaptation muscular endurance type work in the 10-15 or even 20 rep region, before going into hypertrophy.
The Nutrition:
I have to thank Charles Poliquin whose principles were utilized when I first went to UP Mayfair in 2012. That lead me to later read the work of Mike Rousell who I found through Peak Fitness, as well as John Beradi through Eric Cressey.
While the specifics are particular to each expert I refer to above, I would say the principles are the same.
In essence you need to think about your approach to nutrition being modified according to whether the day is a training day or a non-training day.
 The Rules:
I have known the rules for years but chosen to break them.  But for many people who are training recreationally for general fitness and health these rules are not widely known or applied incorrectly.
The basic rule is eat complex carbohydrates when your body is more sensitive to insulin.
Breakfast
After a workout (can be a post workout snack and 1-2 post workout meals)
At this time you can have a portion of complex starchy carbohydrate (such as oats, potatoes, cereals, pasta etc) and/or a simple sugar.  Usually any sugar would come in the post workout snack (such as a shake, sports drink or piece of fruit etc).  The starches would usually come in the meal after the workout.  Where athletes are looking to maintain lean mass they will usually have a single meal containing starches.  Where they are looking to increase lean mass they will have the two post workout meals containing starches.
The rest of the time your carbohydrate intake should come from green leafy vegetables primarily and fruit in moderation.
So on a training day you would probably expect your meals with starches to be around 60-80g carbohydrates per meal and a total amount of carbohydrates to be around 250-300g per day.
By limiting your intake of starchy carbohydrates to breakfast and the rest of the meals to green vegetables you can expect to intake around 180g carbohydrates on your non-training days.  This is based on your non-starch meals containing around 20g carbohydrate.  This would enable you to main lean mass without gaining excessive fat mass.
So what if you're looking to lose fat mass? How do you do it?
Well that depends on when you are looking to achieve this goal by, as there are short, medium and long term strategies.  Popular 'diets' known as crash diets are often not sustainable and are calorie restricted.  People should only do them in the short-term and only if they fully understand what it is doing to the body.
Long term approach:
As humans I think we should always be looking to achieve sustainable long-term lifestyle habits.
For the general public if you are not engaged in physical activity then the old adage breakfast like a king, lunch like a prince and dinner like a pauper, holds true.   But you need to think of the message being applied to quantities of carbohydrates rather than quantities of food per se.
You also need to think of this message being applied to non training days.
Eat your biggest intake of carbohydrates at breakfast as that is when your insulin sensitivity is highest.  Due to the overnight fast while you were sleeping, your body is more likely to store the carbohydrate as glycogen than store it as fat.  If you simple follow this regime and only eat fruit and vegetables at other times you can expect to make some improvements in your body composition but it may take several months.
Is there ever any time when the rule doesn't apply?
Yes- Training days: It would be okay to eat more starches in post workout meals on training days- and if that training happened to be in the evening then it would be better to eat more after training (dinner) than more at lunch.
Short term approaches:
But when there are time pressures there are certain strategies we can use, which while not sustainable, will enable us to kick-start a metabolic shift in our sensitivity to insulin and the way we metabolise carbohydrates.
EVERY DAY regardless of whether you are training or not is a low starch day!!!
Low can be anything lower than 100g per day.
Therefore I will be doing a 2-week extreme carbohydrate restriction phase of 20g per day, which I hope will increase my insulin sensitivity.  I will lose water due to depletion of muscle glycogen stores but I hope the strength training will help me to retain my lean mass.
Here is my 8-week Nutrition Plan for Training days
Week 1-2: 20g carbohydrate per day
Week 3-4: 50g carbohydrate per day- add glucose to post workout drink
Week 5-6: 130g carbohydrate per day- add starches to post workout meal
Week 7-8: 180g carbohydrates per day on light training days-add starches to second post workout meal*
During this programme I will not have carbohydrates at breakfast to maximize the effect of the fat loss.
Note 2: On weeks 7-8 I will have full carbohydrate intake 250-300g per day on high intensity training days*
Note 1: On non-training days I will stick to the 20g carbohydrate per day throughout the 8 weeks
So day days I am playing football or doing boxing sessions I will ramp up the carbohydrate intake to include oats at breakfast and starches in two post workout meals.
I have been following this diet for 3 days.
A few comments in case you want to follow it for yourself.
Eating Lean protein at every meal is expensive.  £96 for about 7-10 days food.
Eating Lean requires creative cooking skills to add flavour without adding unnecessary calories- learn how to season food appropriately or be faced with bland food
Eating lean requires a lot of advanced preparation- cooking and packing all your meals in advance.
Be prepared to have serious sugar cravings for a few days but it will pass
Be prepared to get a little bit light headed if you are exercising at high intensities on low carbs
Here was my food shop last Sunday.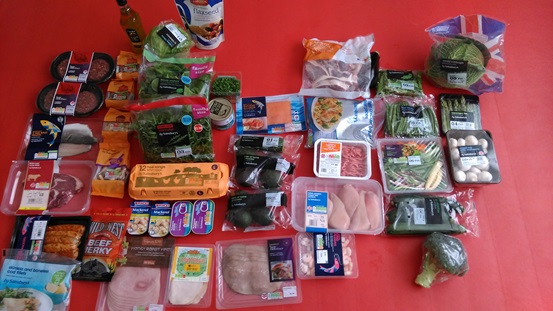 Good luck
http://athleticperformanceacademy.co.uk/wp-content/uploads/2016/02/boxer.jpg
270
400
dazdrake
http://athleticperformanceacademy.co.uk/wp-content/uploads/2015/05/APA-Logo1-300x156.jpg
dazdrake
2016-02-04 22:33:06
2016-02-04 22:35:02
How to Lose 10% body fat in 8 weeks