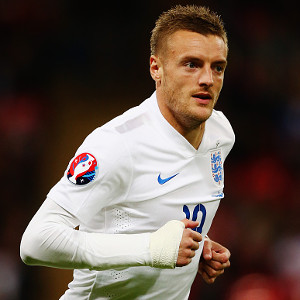 Last week I unpacked a few nutrition myths about calories- not all calories are created equal.  This week we are talking about football- and a myth about strength training.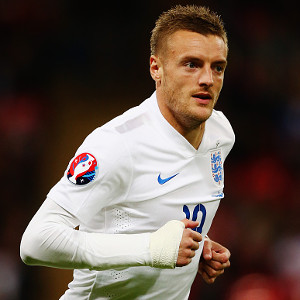 So many sprints but so few injuries
Football is a hot topic right now.  We recently witnessed a football miracle- Leicester City winning the Premier League title. One of the stars of that team was Jamie Vardy. To find out all about the science behind their premier league title click here.  I'd actually read this first.  There is some great insights in how they condition the hamstrings for repeated sprints using the 'Nordbord,' as well as some information on how they use cryotherapy and ice massage.
This week with the Euro Championships 2016 in full flow and ALL the home nations and Republic of Ireland qualifying for the knock out stage,  Jamie Vardy is making the headlines again, and this time it is about his 'unique' approach to fitness.  See the full article here
Apparently he is the third most popular searched football player on the world wide web right now (Gareth Bale #1 and Christiano Ronaldo #2) which means his latest comments will have some of us Strength & Conditioning coaches pulling our hair out:
If I go to the gym it will slow me down
Vardy, whose body fat percentage is measured at just under six per cent, is credited as one of the quickest players in top flight football.  The Daily Mail have previously commented on Jamie Vardy's supreme athleticism (see the full article here) and you can't disagree with his stats- a 70cm vertical jump and a top speed on the pitch of 9.6m/s- making him the fastest in the league! He will do up to 500m of sprints in a game and scores more of his goals in the last 30 minutes of a match so he's conditioned too!
'The squad at Leicester don't focus on Olympic lifting, instead on pushing heavy loads on the club's customised leg press. Matt Reeves, Head of Fitness and Conditioning, explains: 'Jamie pushes in excess of 400kg for three reps. Having said this, he has always possessed electric pace and so he does not tend to focus on improving strength or building muscle quite as much as others.'
'Much of Vardy's work in training is done to build a robustness that will last throughout the season. Reeves adds: 'We construct a tailored programme for all players and key to Jamie's is a prolonged recovery time because of the explosive power he expends in matches.'
But while I agree that more explosive players will need more recovery time I'd like to ask Matt about his comment that because Vardy has electric pace he does not tend to focus on improving strength. Are fast players excused from getting stronger because they have already achieved high speed levels?
Education, education, education
Furthermore, I think we need to make sure that future generations of aspiring pro athletes and sports coaches (who sometimes have mixed views on the importance of strength training) get the right education.  There is no published data that I am aware of that shows that strength training slows you down.
Obviously the strength training needs to reflect the needs of the sport- athletes don't train like bodybuilders (or at least they shouldn't) and the prescription should allow for a progressive peak towards explosive training in the gym. Furthermore, it will be part of a balanced approach while will include high quality speed work on the pitch so that the strength gains always transfer to the sport.
Yes there will be a point of diminished returns where further strength gains don't justify the extra fatigue and muscle soreness required- you can be strong enough.  But how strong that is, is a debate for another blog!
Wimbledon success with APA athletes….and they all lift weights!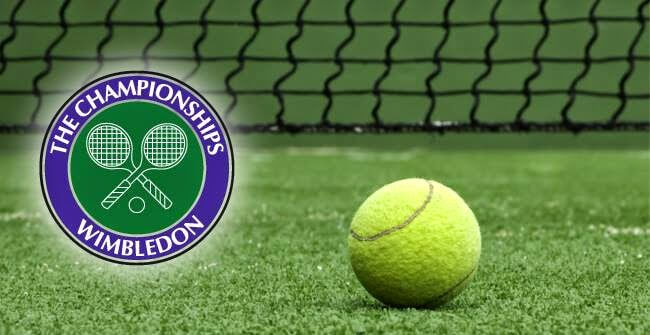 I should also say I'm really privileged to work with some fantastic professionals that really 'get it.'  With my work at Gosling Tennis Academy I've been fortunate to have worked with several of the athletes at this years Wimbledon qualifying, including Katy Dunne (No 335), Daniel Cox (No 554), Ed Corrie (No 358), Marcus Willis (No 708), Joe Salisbury (No 710) and Harriet Dart (No 448).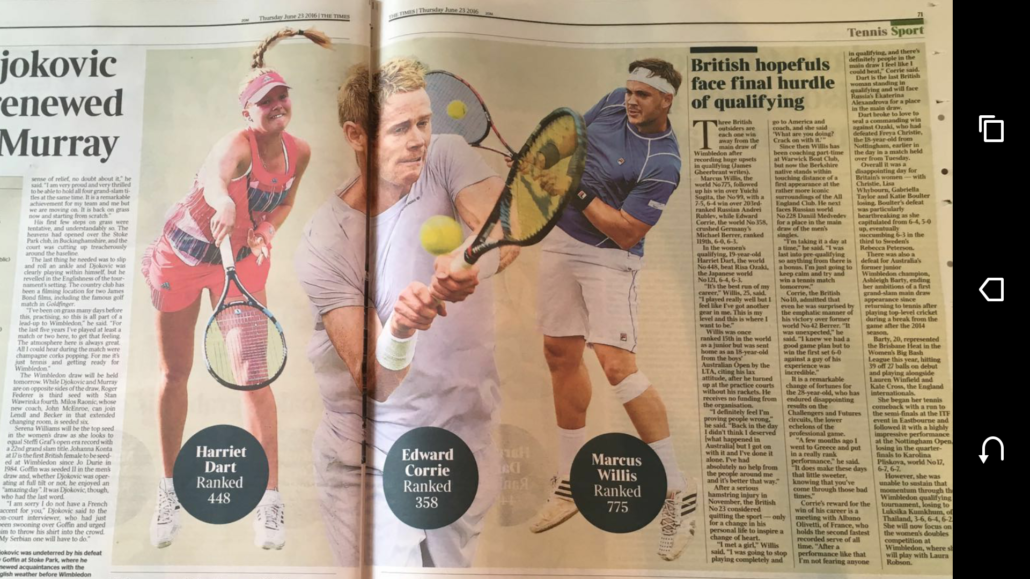 They all buy in to strength training, and all work hard to combine strength & conditioning with a daily tennis practice schedule.  It will be great to see if some of them can make it to this year's Wimbledon Main Draw.  But as I said earlier, we need to make sure that future generations of aspiring pro athletes and sports coaches (who sometimes have mixed views on the importance of strength training) get the right education.
Benefits of Strength training on Sports Performance
Here are three articles you need to put in the hands of coaches and athletes (or give them the headline data)
EliteFTS- benefits of a strength and conditioning programme.  It's a quick read and highlights that Injury Prevention is the most important reason by preventing or eliminate muscle imbalances as well as strengthen tendons and ligaments, which will lead to fewer injuries.  Stronger athletes: Every sport involves the application of force. This includes just about every skill involved in sports such as hitting harder, throwing, blocking, and spiking. Most people don't realize that getting an athlete's legs stronger through exercises such as squats and lunges is the quickest way to make an athlete faster. There are many athletes who can cycle their legs as fast as a top level sprinter, but they're

not applying as much force to the ground

as some of the fastest athletes in the world.
Br J Sports Med. 2014. The effectiveness of exercise interventions to prevent sports injuries: a systematic review and meta-analysis of randomised controlled trials
Sports Med. 2016. The Importance of Muscular Strength in Athletic Performance
https://athleticperformanceacademy.co.uk/wp-content/uploads/2016/06/Jamie-Vardy-151009-Runs-G-300.jpg
300
300
dazdrake
https://athleticperformanceacademy.co.uk/wp-content/uploads/2015/05/APA-Logo1-300x156.jpg
dazdrake
2016-06-23 12:30:59
2016-06-23 12:36:31
If I lift weights in the gym it will slow me down- fact or fiction?