A word from APA owner, Daz Drake.
This week's blog comes from APA coach Konrad McKenzie.  In my last two blogs I wrote about the topic "There is no such thing as a sport specific strength exercise."  In case you missed it you can read Part 1, and Part 2.
These two blogs were inspired but a great discussion I was having on a Tennis forum.  Off the back of that Konrad recommended I read an article written in the NSCA Strength & Conditioning journal.
Konrad has done a terrific job of summarising the article and leaves a few of his own thoughts on how this could relate to youth athletes.  Enjoy!
Training the youth athlete: How specific to the sport do we need to be?
I recently read an article by the NSCA titled: Transfer of Training: How Specific Should We Be? This is an area which has always interested me as there has always been discussions around this topic. I wanted to review this article and also create some discussion around the implications for youth athletic development, relating to this article. Generally speaking, the authors suggest coaches have varying ideas on how much specificity is required to transfer to better sports performance. The definition of transfer they have used, refers to the degree of crossover from a training means to a desired outcome or task, for example, this could be the degree to which a jump squat transfers into improved jump performances in Volley ball players. Whilst some coaches advocate using exercises which are highly specific to the target task, others believe that training the general physiological capacities will transfer to sporting skill this operates on a spectrum. The questions are:
If we are so focussed on specificity are we missing out on overload?
What are the different types of overload outside of traditional methods and how can these be specific?
What is the best approach when training youth athletes?
Firstly, I want to outline that the paper does a great job in describing the different types of overload, with relation to specificity. I'll explain each very briefly to give the reader an understanding around this principle, but I do suggest going over to heading over to the paper and giving it a read!
Coordinative Overload
Mixed-methods
Traditional Methods (Specific)
Traditional Methods (General)
Coordinative Overload
This is a bias towards developing the skill element and motor learning over developing the physiological capacities of the athlete.
This method requires the reader to redefine the definition of overload beyond Newtonian and physiological ideas of progressively adding weight to the barbell. But imposing overload through variation; by creating subtle changes in the target task, which are familiar to the athlete (Bosch, 2016). The paper uses a nice example of high speed running and creating variation by imposing new coordinative challenges such as creating instability through uneven surfaces or gradient. It is important to remember that in order to do this successfully, variations of the required movement need to be small to create the desired adaptation- intermuscular coordination.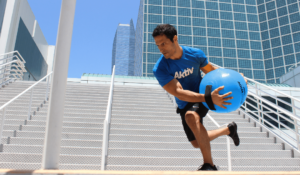 Mixed Methods
This approach uses a mixture of traditional and specific training methods, typically with this method a coach decides when it is right to apply very specific and general principles within a training program. The idea here is that an athlete needs to the capacity to produce force but needs to be skilful enough to direct this force optimally. For example, in sprinting where the importance on the rate and magnitude of force produced, express a clear relationship between capacity and skill. Furthermore, this approach makes it difficult to completely separate coordinative and traditional overload. For example, if I want to work on acceleration using a sled is this considered overload through traditional or coordinative means? Probably both. Also, the author suggests that this type of training is likely to allow the athlete to apply the gym based strength gains to the associated intermuscular coordination of the sporting task.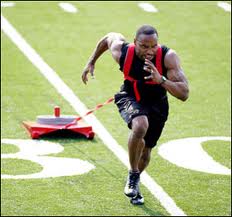 Traditional Overload (Specific)
This is the idea of mechanically overloading a part of the target movement pattern. This particular type of overload looks at specificity at the muscular recruitment level, sharing similarities to the intermuscular, intramuscular and velocity of the task.
Intramuscular coordination– referred to as "Specificity on the inside" This is to the type of muscular contraction (eccentric, isometric, concentric) of the sports movement. Bosch suggests that the similarity of the specific muscle activity is the first step of ensuring specificity (Bosch, 2016). The author states that, with this type of specificity, musculotendinous behaviour is more important for transfer to the sporting task, than the visual resemblance.
Intermuscular coordination –Intramuscular describes the activity within a muscle, intermuscular coordination, also referred to as force- couple relationship, looks at the synergy between different muscles for efficient movement within the human movement system. As described by the author the idea here, is that realization of new found gym strength is limited unless, the coordinative intermuscular relationships are practiced, therefore increasing transfer and specificity.
Traditional Overload (General)
Traditional overload is probably the most familiar with a lot of coaches and is the methodology of developing the general physiological capacities with the belief, that these will be enough to transfer to the sporting skill. It is apparent that structural, neural and muscle fibre transformation makes up the majority of the support for this type of specificity. A great example they use is the positive correlation between maximal isometric strength and measures of agility (Bazyler et al, 2015; Dos'Santos et al 2017).
So where does this lead, with youth training?
An extensive argument will fall outside the realms of this blog. But, I hope it will stimulate some discussion.
Before we nosedive into this question, it's important to appreciate that context is king. This could be down to the environment you are operating in to the demands of the sport in question. Additionally, it is knowing the athlete and understanding their strengths, limitations and current stage of development. It is also going to be dependent on your coaching philosophy, what you think specific training looks like and how you go about achieving this. Finally, when dealing with youth, it is recognising the complexities of training this special population for example, the period of growth and maturation may temporarily alter some of their physical qualities, particularly coordination. There will be a time and place for every method mentioned.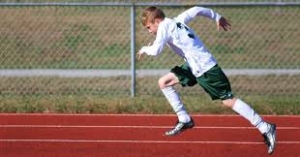 The more experience I gain in the industry and the more I learn, I would argue that my approach now, will lean toward the mixed methods approach. Utilising both a general and a specific approach for increasing transfer to the sporting task. Surfing the spectrum between traditional and coordinative overload.  Some will argue that a traditional overload model is all that's warranted for a developing athlete but I do believe that there are limitations to this.
Would a coach who cements his philosophy solely on traditional principles of overload be missing out on a whole array of opportunity to develop important qualities such as skill acquisition? Would a young athlete who is capable of producing large amounts of force be able to express it in varying environments? Is a correlation between traditional methods of training and sporting skill also a causation?
These are just questions which I have asked myself especially in a sport like Tennis which requires excellent rhythm, timing and readjustment. Alternatively, developing structural and neural qualities are vital to athletic development, particularly if thinking about enhancing output, robustness and injury prevention. Ideally, I would like an athlete to possess the capacity to withstand the rigors of competition/tournaments whilst being able to express suitable levels force in unpredictable environments, with precision, finesse and efficiency. These, in my personal opinion, will warrant a mixed methods approach.
Thanks for reading!
Konrad McKenzie
Strength and Conditioning Coach
Follow Konrad: @konrad_mcken
Follow Daz: @apacoachdaz
References
Bazyler CD, Beckham GK, Sato K, Bazyler C. The use of the isometric squat as a measure of strength and explosiveness. J Strength Cond Res 29: 1386–1392, 2015.
Brearley, S. and Bishop, C., 2019. Transfer of Training. Strength and Conditioning Journal, 41(3), pp.97-109.
Bosch F. Strength Training and Coordination: An Integrative Approach. Rotterdam, the Netherlands: 2010 uitgevers, 2016.
Dos'Santos T, Thomas C, Comfort P, Jones P. Relationships between isometric force-time characteristics and dynamic performance. Sports 5: 1–12, 2017.
Wang R, Hoffman JR, Tanigawa S, Miramonti AA, La Monica MB, Beyer KS, Church DD, Fukuda DH, Stout JR. Isometric mid-thigh pull correlates with strength, sprint, and agility performance in collegiate rugby union players. J Strength Cond Res 30: 3051–3056, 2016.
Remember:
If you're not subscribed yet, click

 

here to get free email updates, so we can stay in touch.
Share this post using the buttons on the top and bottom of the post. As one of this blog's first readers, I'm not just hoping you'll tell your friends about it. I'm counting on it.
Leave a comment, telling me where you're struggling and how I can help
Since you're here…
…we have a small favor to ask.  APA aim to bring you compelling content from the world of sports science and coaching.  We are devoted to making athletes fitter, faster and stronger so they can excel in sport. Please take a moment to share the articles on social media, engage the authors with questions and comments below, and link to articles when appropriate if you have a blog or participate on forums of related topics. — APA TEAM
https://athleticperformanceacademy.co.uk/wp-content/uploads/2020/06/Aktiv-Aqua-Blog-Cormax.png
630
1080
dazdrake
https://athleticperformanceacademy.co.uk/wp-content/uploads/2015/05/APA-Logo1-300x156.jpg
dazdrake
2020-06-12 14:38:24
2020-06-12 14:44:05
Training the youth athlete: How specific to the sport do we need to be?