Why is Peak Height Velocity (PHV) important?
For many years I have tracked the height of the young athletes I work with.  I would do it by simply observing how many centimetres each year an athlete had grown.  I was taught that a typical amount of growth per year for a child was around 5cm.  If it shot up to 7-8cm that was a good indicator that child was going through some accelerated growth.

But of course to know what their 'PHV' is you would need to track it for a number of years to get a feel for what is normal? Right?  Well no….actually.  I talk about the Maturity Offset Calculation in my latest  Daz Dee TV episode 1 where I refer to Peak Height Velocity (around 4:00 minutes in).
"The maturity offset can be used to calculate a child's age of PHV, which is commonly used by strength and conditioning coaches and sports scientists to adapt their training prescription. Thus, understanding PHV and monitoring your athletes' maturity offset (age of PHV) is highly-encouraged. It is also recommended that the maturity offset is calculated approximately 2-3 times per year." Science for Sport.
Shout out to Science for Sport for doing the work on excel here.  Go visit the site for your own FREE Maturity Offset (PHV) Calculator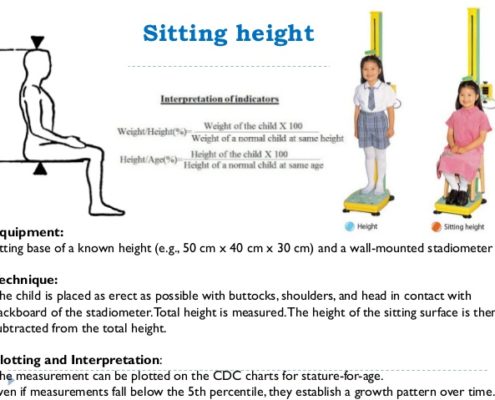 Gosling Tennis Academy: Case Study
I've punched in some real data so you can see the information that comes out.  See below:
By the way I used a 40cm high box so you'll see I had to add that into my own template- which you can download as a PDF below to see my example.

Template Maturity_Estimation_Mirwald_2002_ (1)
Basically, I have 8 boys in the Full-time Junior Academy group at Gosling Tennis Academy that are between 12 and 16 years.  I have listed them from youngest to oldest.  Not surprisingly three of the four oldest boys have a positive Maturity Offset value indicating that it is >1 year since they have ALREADY HAD their Peak height velocity.  However, interestingly one of the boys who is nearly 15 is still one of the smallest and is 'predicted' to go through his growth spurt any time soon.  The rest have negative offset values indicating they haven't yet had their PHV and the it is predicted as just over a year away for most of them, and nearer 2 years (1.81) for one remaining athlete.
Here is the picture: Unfortunately one of the boys stood in the wrong place!!!  The tallest boy in the shot should have switched with the 14 year old in red shorts- I have corrected the scores on the right side to correspond with the place they are in the picture.
Ignore me- I just wanted to photo bomb the moment.  I'm far left so don't count me when you're scanning Left to Right!!

Hope that was useful.   Try it out with your own athletes!!!
https://athleticperformanceacademy.co.uk/wp-content/uploads/2017/04/PHV-3-males-and-females.jpg
317
799
dazdrake
https://athleticperformanceacademy.co.uk/wp-content/uploads/2015/05/APA-Logo1-300x156.jpg
dazdrake
2017-04-25 23:21:04
2018-05-27 20:12:23
Peak Height Velocity- Maturity Estimation Calculation