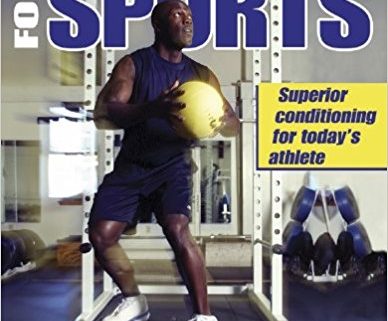 Mike Boyle wrote Functional Training for Sports in 2004, and since then has been a proponent of unilateral or single leg training.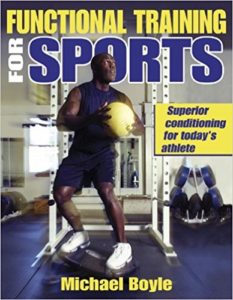 Death of Squatting
During promotion for his Functional Strength Coach DVD he went on record to say, "Squatting is not a lower body exercise.  It is a lower back exercise.  At some point your lower back doesn't allow you to transfer any more force through your legs and you stop."  Meaning at a certain point for most athletes, the ability to stabilize through the core/torso during the back squat becomes the limiting factor to increasing squatting load.
He talked about some of his athletes who could do 115 lbs split squat for 15 on each leg.
"If I had said you are going to back squat 230 lbs for 15- absolutely no conceivable chance they could do, and I don't think they could even do 5.  It's so far out of whack what they are capable of doing on two legs."
Mike is referring to what is known as a Bilateral deficit, meaning the sum of force production from each leg individually is greater than the force production of both legs together.  A full definition of a Bilateral deficit is below:
During maximal contractions, the sum of forces exerted by homonymous muscles unilaterally is typically higher than the sum of forces exerted by the same muscles bilaterally. However, the underlying mechanism(s) of this phenomenon, which is known as the bilateral strength deficit, remain equivocal
Mike affirms that in a back squat the failure, the injury area, is always the lower back.  "If we can take the load and cut it in half that has to be a good thing.
Let's say you can back squat for 300lb for 10 but if you can split squat 150 lbs (75lbs dumbbells in each hand) for 10 that is the same equivalent load on that one leg.  But the difference is that the spine is experiencing half the load."
[author's note- as we will see later 150lb is not the same equivalent load on one leg, it's actually more!!  However, for the bilateral proponents the point I feel is worth discussing is how the total body system responds to working against 150lbs or 300lbs!!! From my personal experience the 'stress' of managing a bigger weight across two legs has to have a different effect on the nervous system than doing less across two separate efforts on each leg,   But for now let's focus on the single leg topic. ]
So what are the best options for single leg training??
Thanks to years of experimental data with Mike Boyle he was able to suggest a tried and tested progression.  Before progressing on to unilateral work Mike suggested that you want to build up to around 50% bodyweight for a bilateral Goblet squat.  
At APA I personally recommend the following progressions:
Step Up
Lunge
Pistol squat (single leg squat)
Let's look at how you can progress the Lunge pattern into the single leg squat.
Regular split squat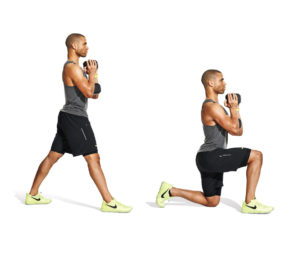 Start with a goblet squat hold.  This helps to keep the torso upright.
But when you get up to a certain weight….Mike found athletes complained that the big toe was killing them on the back foot.
Rear foot elevated split squat
Quadricep dominant version– in this version with a tall torso the centre of mass is back right over the hip and because of this the quadriceps are having to do a lot more work.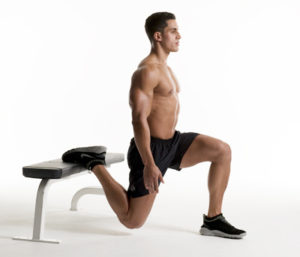 Glute dominant version- in this version the trunk flexion drives hip flexion and now the centre of mass has shifted forwards in between the hip and knee and increases the demands on the glutes.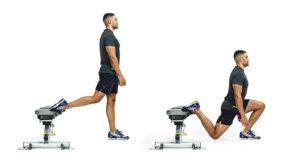 Benefits of the elevated rear foot placement:
=> takes the pressure off the rear foot toe
=> takes the load down (with less stability from the rear foot you can't lift as much)
Tips for correct technique:
=> mid foot to heel pressure on front foot
=> it's an elevator not a saw- vertical orientation of push, with knee just a little bit posterior to hip so you get a gentle rectus femoris stretch.
The idea is Goblet load until you can't goblet load any more- you can't get the weight up anymore.  At that point go to dumbbells held down by your side.
Target: Split Squat
1.0 x Body weight for 10 reps.  So a 200lb athlete could lift 100lb in each hand.
Single leg or Pistol Squat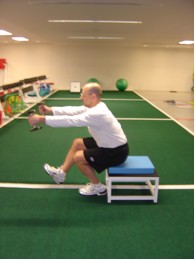 The "pistol type" version Mike used initially (see above) caused some low back pain in some athletes, particularly those with long femurs. He solved that by using two boxes, one to stand on and one to squat to.  They solved that by using two boxes, one to stand on and one to squat to (see below top two images).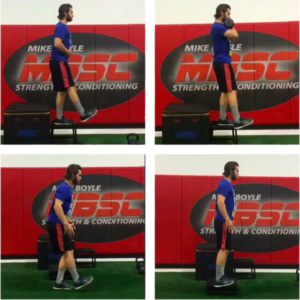 Target: Single Leg squat:
80lbs x5 is good for a one leg squat and 110lbs x5 is excellent 110 lbs (50 lb vest w/ 30 lb DB's).
Load Comparison Ratio
At the recent Child to Champion Conference Alex Natera spoke about how he uses single leg work in his training with track and field athletes.  [authors note: the single leg squat is to quarter squat depth- not parallel]
He said track coaches often get 'twitchy' about doing heavy squats once it gets closer to important competitions but they were only too happy to let him put 10-50% body weight (BW) through them on one leg!!!!  This was a sneaky way to keep going with strength training.
Owing to the fact that 68% of the total system mass is supported during double leg movements versus 84% of the total system mass during single leg movements we find that you can use "less load" with single leg work BUT have the same effect as doing very heavy double leg work!!!
Assuming an equal load distribution between limbs in a double limb movement, the SL movement equates to 1.62 times the intensity in one leg of the double leg movement.
To be honest, the mathematics is a little too much for me but Alex was pretty clear in estimating the following:
BW Pistol = <1.0 x BW Back squat
10% BW pistol =1.5 x BW Back squat 
50% BW pistol = 2 x BW Back squat 
100% BW pistol = 3 x BW Back squat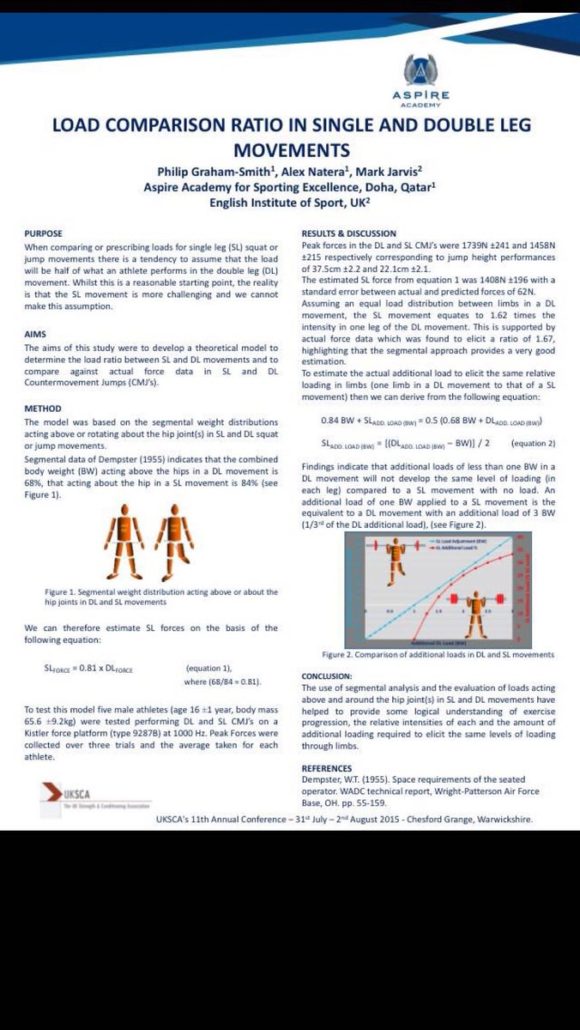 Conclusions
Mike doesn't have his athletes back squat heavy.  He teaches them the squat pattern early on with a goblet squat so that they can be set up for the olympic lifts which he does use in his programme- but the back squat is not a focus.
Like anything in life it is never black and white.  I respect Mike for taking a stance on this because he believes the compressive loads at high weights is not a good situation for the lower back.  I personally think you need to train both double and single legs with the highest safe load you can manage.  But I think it's really smart to recognise that you can focus a bit more time on single leg work knowing that the spinal loading might be lower but the overall stress through the lower limb is significantly higher.
I hope this has been of interest to you.
Since you're here…
…we have a small favor to ask.  APA aim to bring you compelling content from the world of sports science and coaching.  We are devoted to making athletes fitter, faster and stronger so they can excel in sport. Please take a moment to share the articles on social media, engage the authors with questions and comments below, and link to articles when appropriate if you have a blog or participate on forums of related topics. — APA TEAM
https://athleticperformanceacademy.co.uk/wp-content/uploads/2017/06/Functional-Training-for-Sports.jpg
499
388
dazdrake
https://athleticperformanceacademy.co.uk/wp-content/uploads/2015/05/APA-Logo1-300x156.jpg
dazdrake
2017-06-21 18:48:17
2018-05-27 20:12:21
Which is better- Back squat or Split Squat?