APA Partnership Announcement
APA are thrilled to announce we will be partnering with Speed Solutions – the latest offering from Jonas Dodooo, the man behind Speedworks Training.
As many of you will know, APA have gone on record in saying that our Vision is to be the 'Best Tennis S&C Team in the World" by 2025.  When I tell people that, I'm often asked, "How will you know when you have achieved that?"
I think the better question is, "Who do I know who will help me achieve this Vision?"
Ask any tennis coach what they would like help with to improve their tennis player's fitness, and speed and agility usually feature pretty high up on the list, if not right at the top.  Given APA's aspirations to be the best at what we do, it was a no brainer for APA to reach out to one of the World's leading coaches of speed – Jonas Dodoo.
Over the coming months APA will be incorporating some of Speedworks Training principles into the APA method.  This includes Speed Solutions – the testing protocols they use with their athletes  – which provides coaches with VueMotion & PSR Reports, the latest cutting edge way to assess your athlete's speed and agility.
As part of the launch of the partnership we are running two launch events over August.  Further details can be found below.
Speed & Agility Testing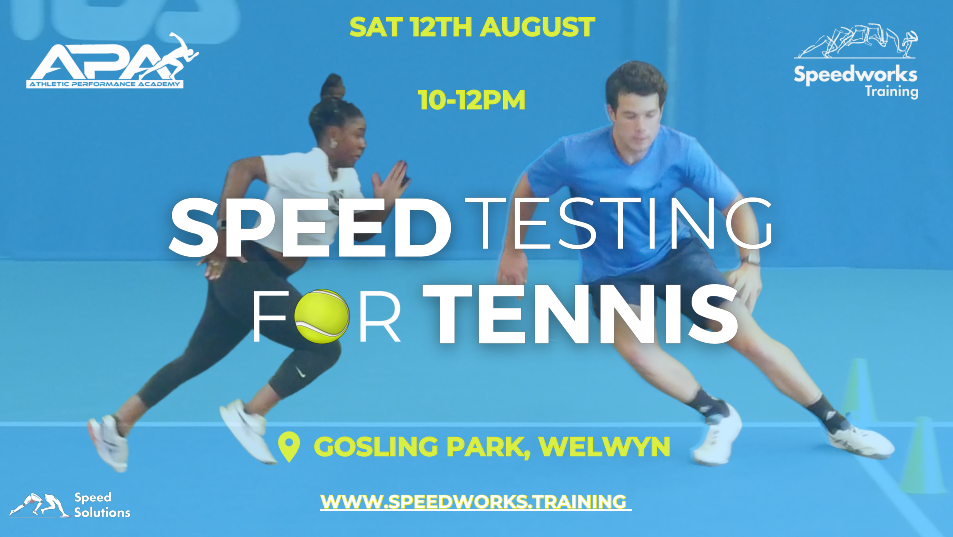 On the day of testing, precise linear times for each individual run will be provided using timing gates.
Within 48 hours, you will receive a comprehensive data report for your 0-20m and COD performances. This report will highlight your strengths and weaknesses across our three key pillars of speed: Projection, Switching, and Reactivity (PSR). The report will be presented in an easily understandable format, including clear charts, kinograms, and figures. Speedworks experts will guide you through the report and its implications during the post-testing session.
👇 To book your spot click on the link below👇
Coaching Workshop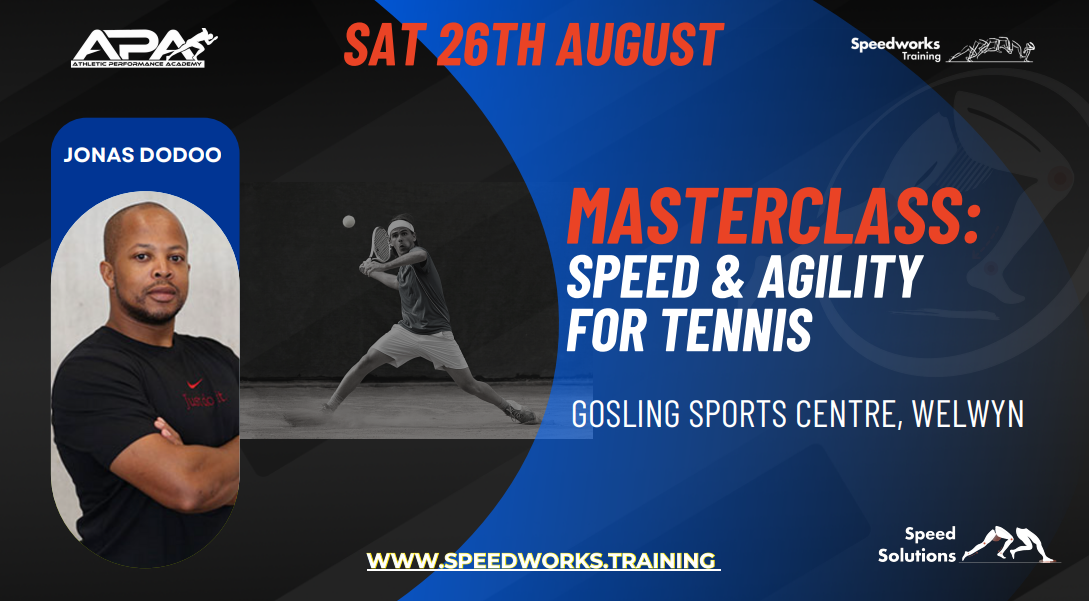 You don't have to be a speed coach to coach speed, we will show you how!
This workshop aims to empower tennis coaches of all levels by equipping them with the knowledge and skills to enhance their players' speed and agility on the court.
Throughout the session, participants will learn how to incorporate simple speed & agility tests into their training sessions and use the video analysis to understand what good movement looks like and how to coach it.
👇 To book your spot click on the link below👇
Remember:
If you're not subscribed yet, click

 

here to get free email updates, so we can stay in touch.
Share this post using the buttons on the top and bottom of the post. As one of this blog's first readers, I'm not just hoping you'll tell your friends about it. I'm counting on it.
Leave a comment, telling me where you're struggling and how I can help
Since you're here…
…we have a small favor to ask.  APA aim to bring you compelling content from the world of sports science and coaching.  We are devoted to making athletes fitter, faster and stronger so they can excel in sport. Please take a moment to share the articles on social media, engage the authors with questions and comments below, and link to articles when appropriate if you have a blog or participate on forums of related topics. — APA TEAM
https://athleticperformanceacademy.co.uk/wp-content/uploads/2023/07/Speed-Testing-for-Tennis.png
537
953
dazdrake
https://athleticperformanceacademy.co.uk/wp-content/uploads/2015/05/APA-Logo1-300x156.jpg
dazdrake
2023-07-20 10:02:37
2023-07-20 10:54:11
APA Partner with Speed Solutions